Hi guys! I actually AM alive! I've just been having issues with internet and I've also been having a blast in Shanghai. No matter how many times I've been to this city, I'm constantly rediscovering more stuff to do and my friends and I have been having lots of fun just wandering around.
So, a bit of belated business to tend to...the Canadian Nicoles! First of all, Canada was awesome and I just love Niagara Falls...
The American Falls & Horseshoe Falls from the Rainbow Bridge

American Falls at night

Isn't it so beautiful? I could just sit and take pictures forever. Obviously with the sightseeing and soaking in all Canada could offer in the four days I was there, I didn't get to see much nail polish UNTIL the very last day I was in Canada. We stopped by the Shopper's Drug Mart inside the Eaton Shopping Centre in Toronto, and I got some Nicole's on sale! They were priced at $7 instead of the $13 CAD they usually are. Pricey, especially with the sadly weaker dollar, but it's a unique souvenir for me. Now, these aren't any regular Nicole's...these are two Nicole's that actually can only be bought in Canada! They are exclusive to only Canada, so I'm really glad to have gotten my hands on them.
I adore vampy, or darker, colors even though my parents hate them and always give me weird looks whenever I wear darker shades. But, I feel like polish is very expressive so I love wearing dark shades when I'm feeling fun or down. Also, they just look cool sometimes. The first shade is Drama in the Dark, a black base with slight green and blue sparkles.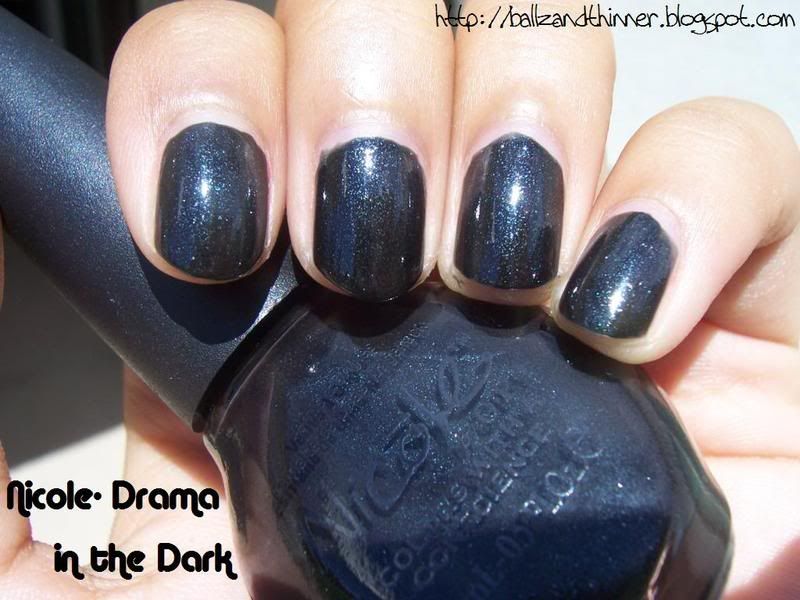 It's actually a bit of a plain color, but I'm always really weird about wearing just straight black...most of the time, I just can't pull of straight black creme polish...I'm always tempted to layer something over it. It's a pretty color, but not much of a standout. I did get good, opaque coverage in one coat, this is it with two coats.
However, since I am a fan of green polishes, Nicole Drama in the Dark was what really grabbed my attention. The base is a dark green and it has green shimmer sparkles as well.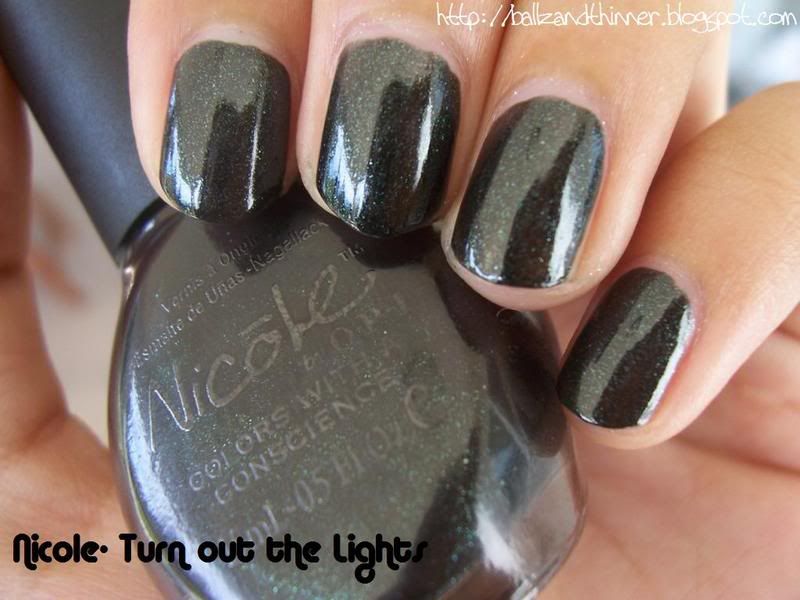 I love it! It's shown here with two coats although in hindsight I should have put three. I'm so glad that many polish companies have started to make more green polish. It may seem a bit "out-there" for some people...I will admit that it took a lot of courage for me to wear green polish because I always thought it would look weird. But, I kind of thought that with red too and now I love red polish. Green is actually a lot more flattering than other people think. I do know though that for some people, it can be a giant step out of the comfort zone. However, you never know unless you try!
I really wanted to find the Canadian version of Respect the World because it's apparently darker...here's the American version, a pretty teal color that's a bit frosty.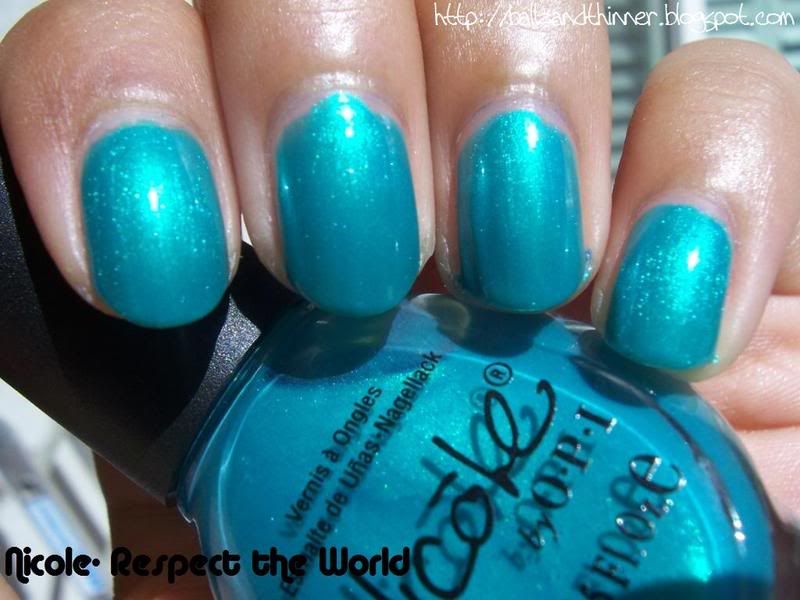 In shade:

It would be prettier darker, but I do like how the American version looks too. I miss my polish collection!!!
Well I'm practically falling asleep as I write this, but I promise you that I will find a balance here soon so that I will get back to posting pics soon. I have a bunch of pics that I saved up just so I wouldn't run out of things to post about during my four-month time here. So, stay tuned!
Oh, before I forget though, according to reader Danielle, for all those in the Niagara Falls area, they are building a Sally's Beauty Supply in St. Catherine's!