These pictures are LONG overdue and I apologize. I'm actually still pretty exhausted since I drove 7 hrs back home yesterday! California is a HUGE state. I know
Steph
and
Scrangie
have swatched them already, but here are pics from Misa's Poisoned Passion Collection for Fall/Winter 08. Actually, it would be a good idea to revisit their posts because Misa accidentally sent me two Dying Love's so I didn't get A Sin Worth Committing (the blue). Good thing Dying Love is a charcoal grey that actually looks good on me! Summer's not over yet, but these colors are perfect for fall and winter, the time of darker polishes. And it's so making me crave for those times too.
With this collection, Misa has really gone above and beyond. Each polish only needed two coats, no streaking problems at all, and everything is just rich and luscious. Photos are taken in direct full bright sunlight because I swatched outside today, which was fun. But, sunlight pics can be a double-edged sword because it can sometimes wash a color out (and my skin looks super washed out) so I took a picture of it in shade too...and everyone can see the high-gloss finish of each polish too. Like I said, Misa really went above and beyond with this collections.
First up, #175, Love Bite. GORGEOUS vampy burgundy creme. I love this color especially because it reminds me of
Icing Redwood
, except maybe a pinch darker. I love vampy reds, there's just something so sexy about them.
#176, Dying Love, is one hot charcoal grey shimmer. Ok yeah it's been done before, and dark greys don't really look good on me (and I always get confused because dark greys look so green to me sometimes)...but I will say that this polish is very, very nice. I also think that it works with my skin and the shimmer is just soo pretty.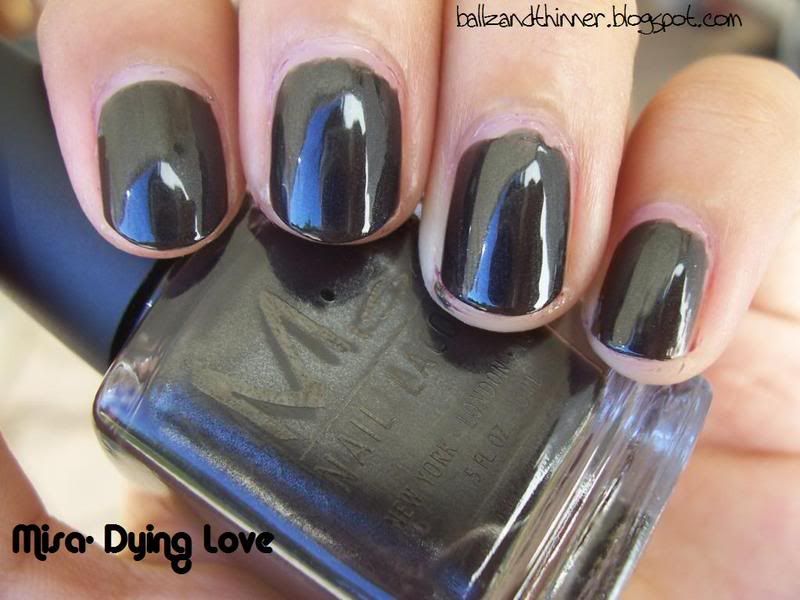 #178, Forbidden Lust, is a pretty, shimmery purple. Definitely a staple for purple-lovers. I love how it has a glowy look in sunlight.
#179, Toxic Seduction is by far my favorite. A gorgeous green with a touch of teal and is full of gold & multicolored microglitter. It's so beautiful that I'm glad all of these colors are good w/two coats, because then I don't waste as much when I wear this color over and over again. I'm really glad Misa added a green to this collection, it's definitely something that stands out about this collection specifically and also gives it a bit of an edge.
Finally, #180, Fatal Affair, is a very vampy purple with unique blurple shimmer. And try to contain your shock folks, because I actually really love this color too. Me. Loving a purple. Global warming is doing some funky stuff with my head ya'll, because I think I'm suffering from a heatstroke. But I think the pics can speak for themselves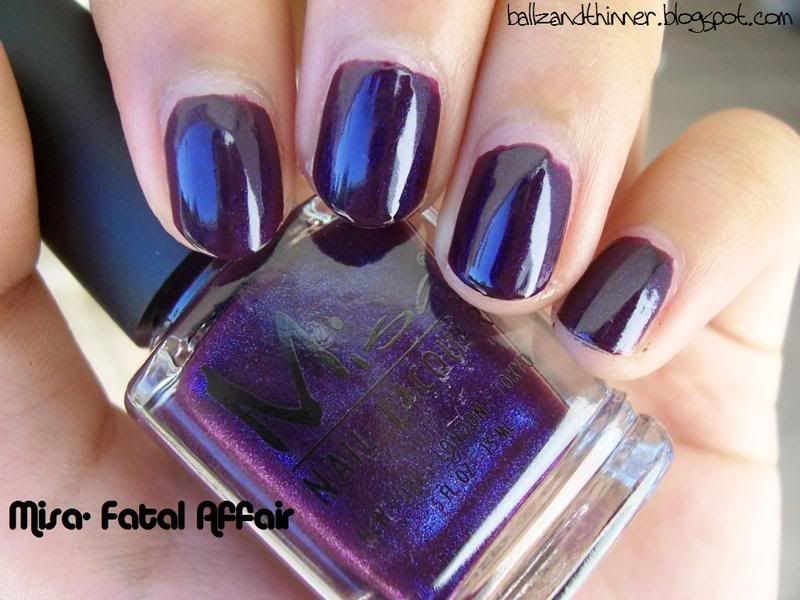 So pretty much I had no issues with any polish in this collection. I especially love how I only need two coats for every single polish here, andI can definitely see where they drew inspiration from the Milan fashion shows. Everything here was so rich and (pardon the pun), polished. I know Misa polishes can be hard to find but they are definitely worth it.
But wait, there's more!
Misa also sent me some other polishes to swatch: Camellia Destiny, Heaven White, I Will Survive and Red Hot Mamma. The colors are pretty straightforward so these were taken in direct sunlight as well.
Camellia Destiny is a milky pink sheer. It was kind of streaky with the first coat but evened out a bit by the 2nd coat. Since I'm not a huge sheer fan, these is three coats here but you can still see that there's a bit of nail showing through. It's very lady-like but the streakiness bothered me a bit
Heaven White is a pure white, the same kind that Pure Ice Super Star! was but only needed two coats. Like with Camellia Destiny, it was streaky with the first coat but evened out with the second one.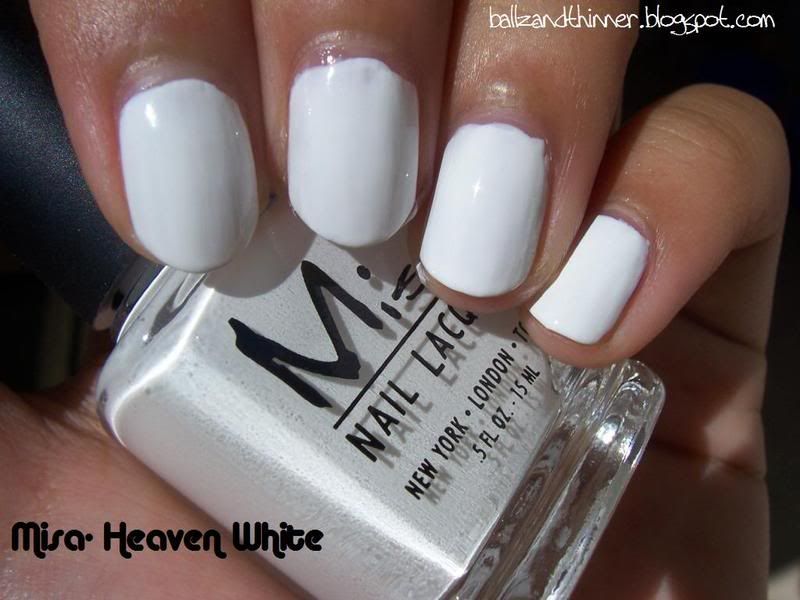 I Will Survive is a GREAT song. I love Gloria Gaynor, she's so sassy and fun. This polish is also very sassy, a straight up glossy black polish. It's pretty much as if NYC Black Lace Creme and WnW Black Creme had a baby. It's got the mega-gloss factor of the NYC and the opaqueness and application of the WnW. Here it is in two coats. Plain but pratical.
Finally, Red Hot Mamma is just...well, it's a hot red for sure! It has a pretty hint of shimmer too that makes it a very glowy color.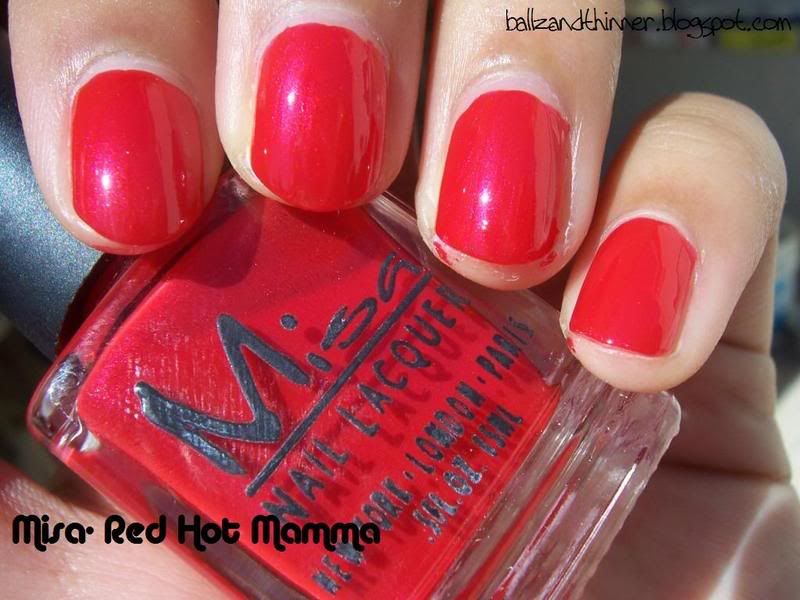 I'm just about falling asleep at my laptop here so enjoy the beautiful pictures! Good night (or more accurately good morning)!