Despite all the political shenanigans that's going on these days, I don't think patriotism is dead in America. Every year, the 4th of July is more than consumerism, it's a way to show pride in celebrating the day America gained independence from England. I really wanted to do like a cool design on my nails to celebrate today, but since I'm still sick I opted for a lazier option. I'd been sporting Lippmann's My Old Flame, so I just put NYC Starry Silver Glitter over it. The result? Very festive nails. It looks a bit like fireworks, doesn't it? Well, if the sky were red.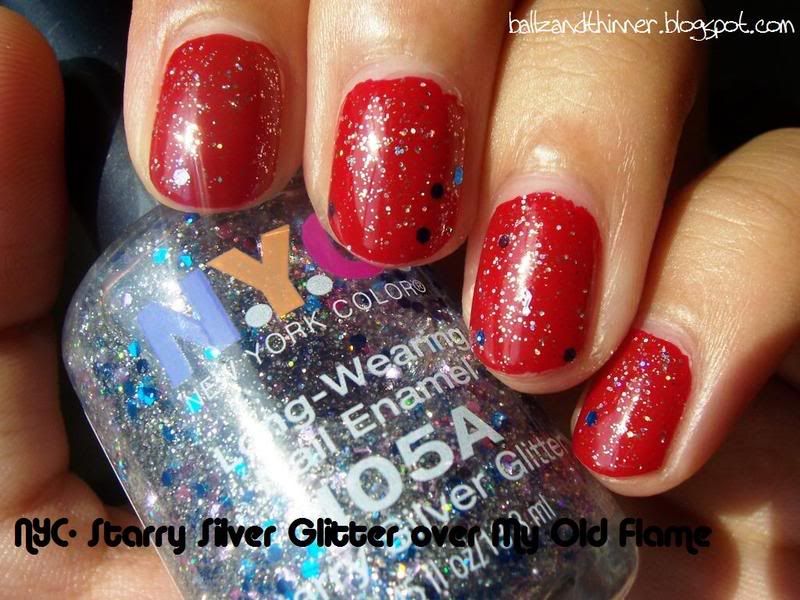 The Lippmann Collection is a brand of polish that I've never tried before because it's so darn expensive ($15) for colors that just aren't appealing to me. Even the most interesting one Rehab, wasn't beautiful enough to totally win me over. However with the big Bath & Body Works sales going on recently, I found some that were 75% off. I've heard the raves about application and wear so I figured for 75% off, what did I have to lose, right? Well, it's true. The application and pigmentation was amazing. One coat provided amazingly opaque coverage, I only had to do two to achieve perfection. My Old Flame is a true, classic red creme, the only thing that did bother me slightly was that I could see a bit of the brush strokes up close. But overall, I definitely think that if there are any colors in the future that are appealing to me I wouldn't hesitate to pay the full price for it. The above picture was taken after I had been wearing My Old Flame for FIVE days. Here it is fresh and pretty:
It's very much a pretty, classic red. Lippmann polishes retail for $15 and can be found only at Bath & Body Works flagship stores (you can check online
here
for which stores near you are flagship ones), select Nordstrom and Neiman Marcus stores, or online at the
Lippmann Collection store
.