Apologizes for the lack of updates and news lately, I've been busy studying since my final was yesterday, and then today I went with my friends to the beach. It's been an exhausting day, but it was really nice to just chill with my friends since I won't see them until next year! Anyway, the real news (besides OMG!
Exclusive OPIs
to mark the start of
90210
version 2.0 and the f
all NYC collection polish
) is that I'm finally going home on Monday! I'm going to be more than dead on Monday, but I promise hopefully Tuesday or at the latest Wednesday, I will have some amazing picspam for you guys. That's because I have a HUGE pile of Misa, and I think Essie and China Glaze as well polishes to swatch and review. It's going to be a lot of fun.
It's going to be busy for the next couple of days so I'll just talk about the most G-rated way to get blazed. I'm talking of course of Wet n Wild's Blazed, a fun but demure light orange that has some coral undertones.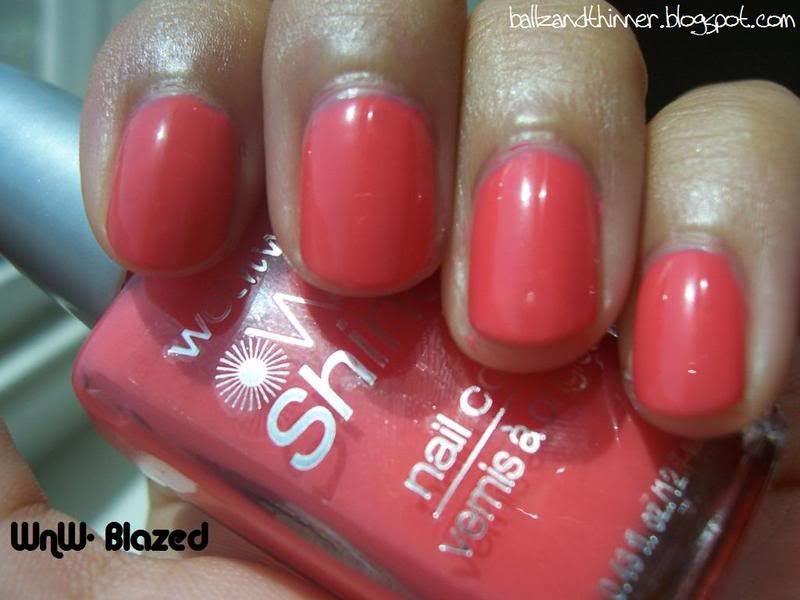 This picture makes it look more coral than it is, although it straddles that coral-orange line, it ultimately is more orange.
And well, here's the thing. I'm totally a shimmer girl, but lately I've really been digging creme polishes. Blazed is super shiny on its own (it's two coats here), but add a topcoat and it was still shiny on day 4 as it was on day 1. And I love shine too. For 99 cents the quality is just outstanding....I think I may have to pick up more WnW polishes. I mean I love NYC but WnW is really winning me over. Now if only they could create a non-streaky yellow polish that's as pretty as
NYC Taxi Yellow
. Actually, if any company could make a non-streaky yellow, that would be perfect.