Recently, I'm all about the bright, fun colors. I'm having a lapse right now by wearing a vampy shade (Nina Out of the Blue, see previous post) but last week I was all about the unconventional light colors.
I started last week by wearing Pure Ice Super Star! Yup, there is naturally an exclamation point in the name. With a name so exciting, the color must be great too, right? Well, I love it. Super Star! is a stark white creme polish that happens to be opaque in one coat. I used three because the second coat was a little streaky but topcoat evened everything out for me. Here it is in shade and sun:
I think white and yellow polishes make my skin look a lot tanner, which for me is annoying because for a Chinese girl I have super dark skin and when I go to China no one believes I'm Chinese. But at the same time, I love the contrast of the white against my skin. My fascination with white polish began last year when the girl that sat next to me in calculus class wore white polish once. Her skin was a lot lighter than mine but it still looked amazing, which is why I think more people can pull off solid white polish than they think. Is it a little too white-out looking though? Maybe I'm a bit biased but I think it looks waaaaay better than just painting your nails with white-out. It's a lot smoother (or at least it looks like it would be). Don't forget that you can only find Pure Ice polishes at Wal-Mart too. As you can maybe kind of tell with the shade picture, it's very glossy with a topcoat, as cremes tend to be, which adds onto the whole not-looking-like-white-out thing.
I then ended last week with Rimmel Sunny Side. Jen's been egging me to get this shade for forever because it's just gorgeous, a light orange/slightly coral color that has fine, but not micro-sized, gold glitter. I went through a lot finding it because it looks as if Rimmel is revamping some of their bottles and stuff. I even had a terrible moment where I got the last one at Walmart, but then someone stole my cart. It was a crushing moment for a polish addict. However, I eventually got it.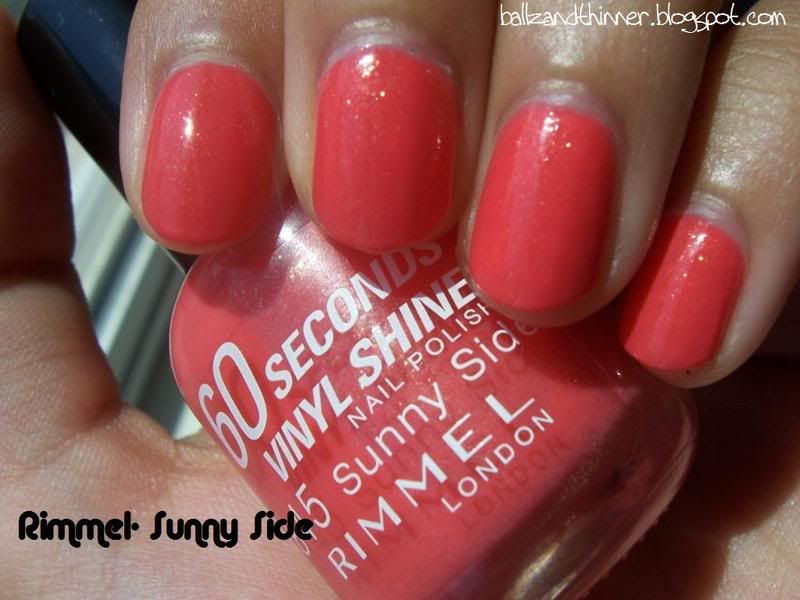 Application was pretty bad, there's just something about the 60 Sec. Vinyl Shine polishes that are very difficult to apply because it's as if the polish is drying mid-air so there's a bit of drag. I was also a bit disappointed because even with topcoat, the color wasn't as shiny as I hoped it would be (I LOVE gloss and shine). I normally use INM Out the Door topcoat, which is pretty glossy but it did nothing for this polish. I think Jen had more luck with Seche Vite topcoat in creating a shiny finish. She loves this polish but I think my favorite Rimmel so far is probably still
Pop Apricot
. Sunny Side isn't a bad color, but I was just expecting a better finish.