Feeling the hot summer days already? Well the people at Zoya have decided to make the summer even hotter for us nail polish lovers. Now with every order on Zoya.com, you can enter a promo code for a set of three free polishes! These code were designed specifically for 6 bloggers and 1 dedicated to the style team in their hometown of Cleveland, Ohio. The promo ends Friday, July 18th. Here are the codes & colors you get:
Polish Addict
: Miley, Rea, and Stephanie.
Promo Code.
The Beauty of Life
: Indigo, Nikki, Tobi.
Promo Code.
Blogdorf Goodman
: Indigo, Audrina, Annie.
Promo Code.
Cleveland Plain Dealer
Style Team: Lo, Audrina, Elodie.
Promo Code.
Scrangie
: Trixie, Ki, Yasmeen.
Promo Code
Temptalia
: Tart, Suzanne, Sunny.
Promo Code.
All Lacquered Up
: Tart, Fergie, Lianne.
Promo Code.
...I'm not going to lie that took me a while to compile all those together. You can only use one code per order, no stacking codes! Seeing all these colors is really making me itch for some more Zoya polishes...I can't say that there is one promo that I would choose over the rest but I'm really lemming Elodie, Gaia, Rea, Lianne, Tart, and Annie.
Here's another hot Zoya though...Akyra is a metallicy forest green/dark teal. It's gorgeous and definitely one of my favorite greens. And we all know how there is a dearth of good green polishes in the world.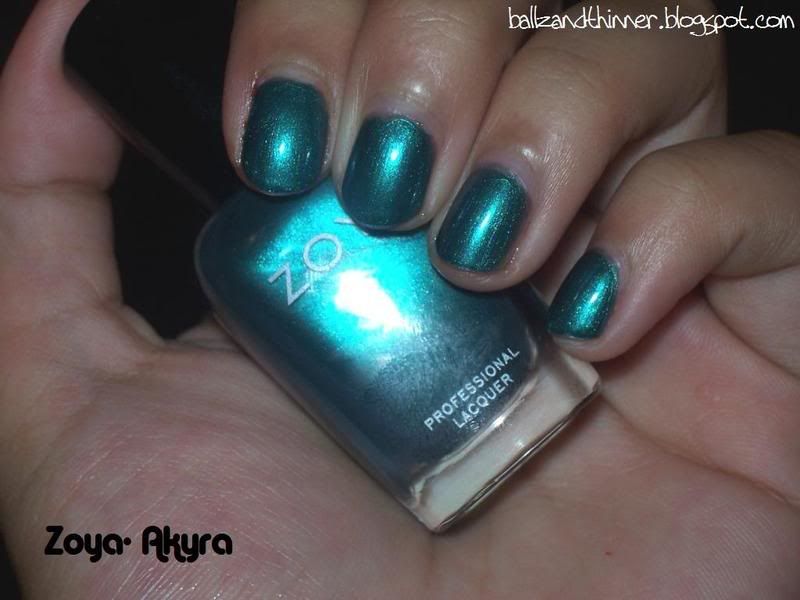 The lighting is a bit weird but this is definitely the most representative of the color. Being curious of the origin of the name, I googled 'akyra' and 'akira' and found some interesting things. I don't know if Zoya intented to name it after the 1988 movie
Akira
but it sounds like a very powerful movie that I now want to watch.
Today is a lazy Saturday so I did some swatches of two AWESOME polishes I got yesterday and am planning on uploading some more pics. So look forward to lots of posts and pictures coming up!