As I mentioned I would, I got Chanel Rose Tourbillon today, the Nordstrom exclusive Chanel polish for their annual anniversary sale. It actually had been an Asia-exclusive earlier, which is why and how ebay scalpers have been able to get their hands on it. I can hardly blame them though, this color is absolutely amazing. It's delicate and a must-have to pink lovers, I think. I really can't think of a dupe for this color off the top of my head. It's sheer with the first coat, but buildable and opaque at 2 coats. I did 3 coats just to bring out the color more. It's a light pink with incredible light shimmer that is really cool. I have to say even though I was unimpressed with Gold Fiction, Fantastic, and Kaleidascope, Rose Tourbillon was really worth every penny (I ended up not getting anything from the Robertson collection. I wanted LA Sunrise and Sunset but budget-wise at this time it's just not feasible and I didn't want them
that
badly. Ok, kind of but I have to be realistic with my money).
Here it is in the bottle, it actually looks pretty plain: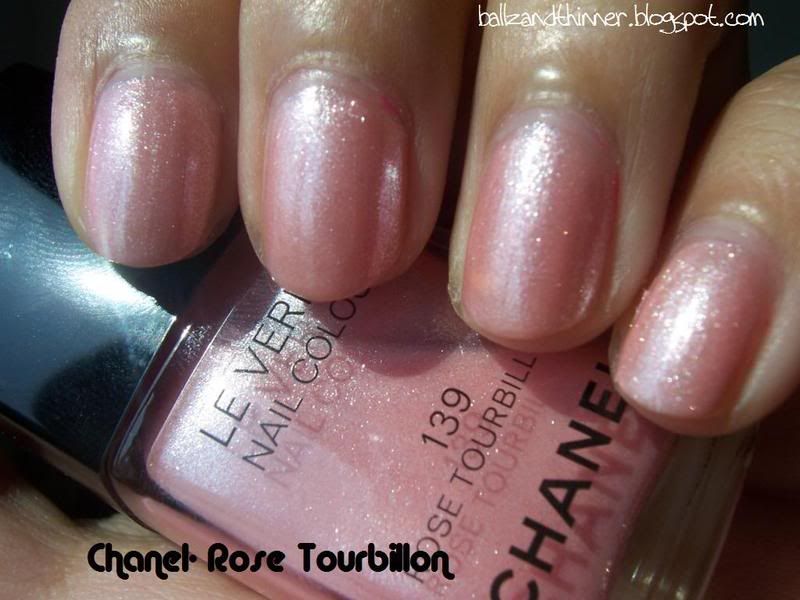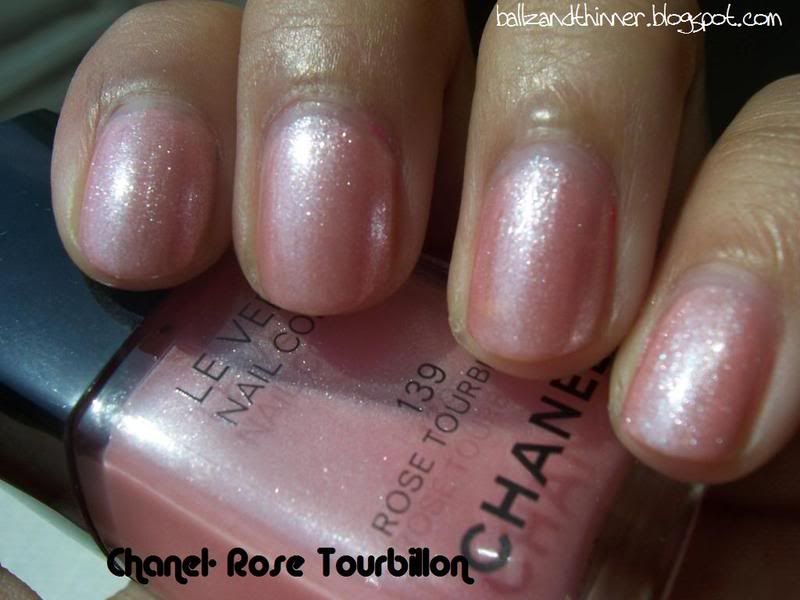 I'm not going to lie, I really love this polish and I'm happy with the money I spent. Maybe for some people they will think it's too conservative and blah, but I think it's very versatile. It's work appropriate but sparkles like no other close-up. It's also one of those perfect pinks that can go with any outfit because it's a very light pink. I'll be attending a wedding in August so you better believe that I'm going to be wearing this!
After enduring the madness that was the Nordstrom anniversary sale, I dropped by a nearby Sally's Beauty to see if I could find either China Glaze For Audrey or Turned Up Turquoise. The one I went to didn't have many ChGs, though I think they added some more Orly polishes. I ended up getting ChG Rainbow and Fairy Dust, as well as Nina Pro Out of the Blue.
Rainbow is really pretty in the bottle, a light pink with a blue flash. But translated onto nails? Ehhhh...I don't like how I can see the brush strokes.
You can see the bit of duo-chromeness happening, as my pinky is pretty pink while the rest have that blue flash. I like the color, but I'm iffy on whether to give it another chance. I was really rushing with this swatch so maybe I should be more patient? Anyone else have this color? Thoughts?
I was much happier with Nina's Out of the Blue, which is an inky blue with blue microshimmer. It actually reminds me a lot of Chanel Blue Satin, except maybe a bit more lighter since Blue Satin is pretty dark. And has more shimmer. But this is a pretty good, and much cheaper alternative:
These pics are with two coats, though the application was a bit gloopy. I've added some thinner because I plan on using it tonight.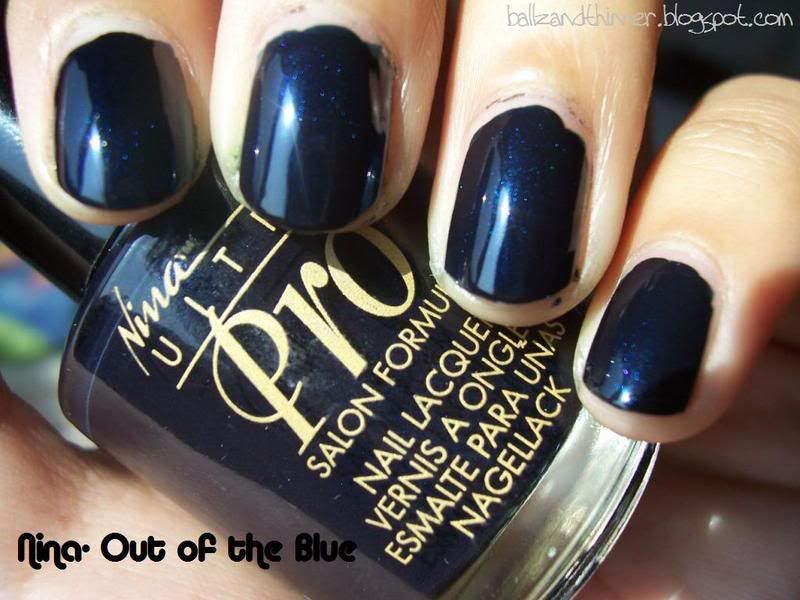 Yesterday, I went to Ontario-Mills and Victoria Gardens (both in Rancho Cucamonga, CA) which I must recommend for anyone in the area who wants to do serious damage with their credit card. Ontario-Mills is HUGE and has some great stores, though after the first couple of times the excitement wears off. Victoria Gardens is really chill and kind of a romantic place to shop actually, because it's all outdoors and very quaint, despite the huge crowds of people. Victoria Gardens has both a Sephora and an Ulta actually...but I was good yesterday and resisted the pull of Ulta because of the Chanel price tag.
Anyway, I ducked into the Hot Topic at Ontario-Mills yesterday to get their Kelly Green polish after seeing pictures of it from my amazing friend Jen. It looks so....blah in the bottle. Look like an average green right?
I think the lovely Stephanie (aka Polish Addict) will LOVE this one, it's a gorgeous dark green creme

It really is a beaut. I'm sure Stephanie can tweak this into a NARS Zulu dupe since it's pretty close to the base color I think. I do have a bit of a gripe with this polish though: the formula is super gloopy/thick, and the brush is a bit more difficult to deal with. Some polish ended up dropping onto the palm of my hand from the brush "stem'. Really, I think the easiest way to deal with these problems is to add some thinner and pour it into an empty bottle. Otherwise, you really have to be careful while putting it on because luckily the polish globbed on my hand instead of the carpet or my friend's wooden desk! Ahhh! I had to dip the brush against the sides a LOT to prevent more polish from free-falling everywhere. Also, the name 'Kelly Green' comes from the
website
, the bottles are NOT labeled with names.
And, because I'm a Nintendo geek, look what followed me back from Victoria Gardens: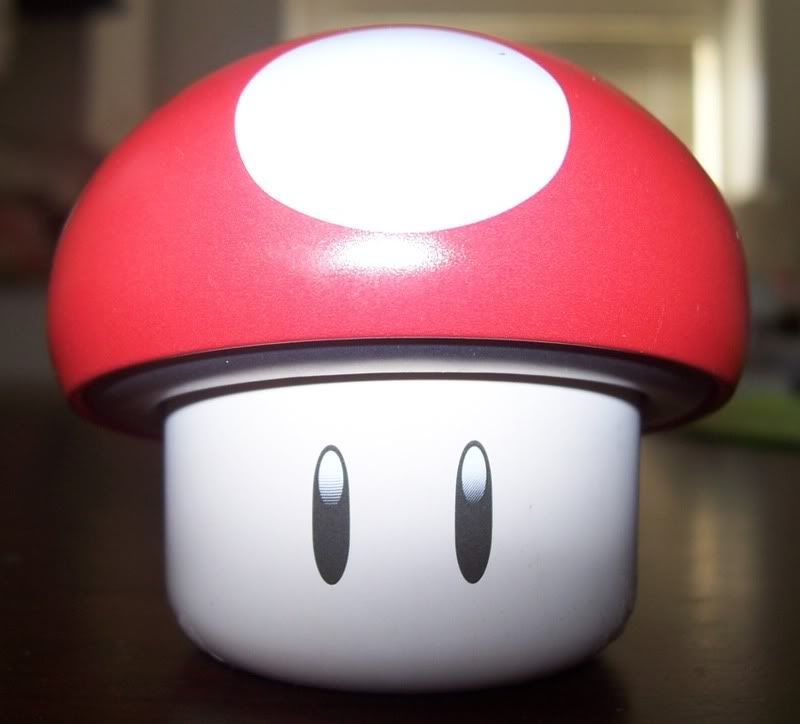 It's 1-up mushroom candy tin! It has mushroom-shaped sour candies inside, which is so cool.
Oh, I also saw
China Glaze Naked
in Sally's today, for anyone looking for it. Have a great night everyone!