As you guys know, one of my weaknesses is the shallow world of entertainment- I frequent celebrity gossip sites every day (then try to justify it by spending lots of time on BBC.com, ecogeek.org, and newsweek.com). Anyway, I was reading an blurb on
JustJared.com
about Minx Nails, which recently did Beyonce's nails for the music video for her new single, "Single Ladies. " You can read the post
here
. I was interested about Minx Nails based on what Jared posted, so I decided to contact them directly.
Their PR person, Janice Miller, couldn't have been nicer, and I got to find out a lot about Minx Nails. Basically, it's going to change the face of fake nails forever (in a good way). Unlike a traditional nail polish, Minx is applied in polymer strips that are heated and them applied with pressure onto the nail, where it then cools as a type of shrink wrap. The benefits of there not being an actual "polish" is that because it's a polymer, there is no chipping or smudging, and no drying time is needed. Plus, there are no fumes.
Something else that really stands out about Minx is that it doesn't require nail polish remover to remove, nor does it require prying the strips from your nails. Or soaking in any type of crazy solution. The simple way to remove Minx? Heat. Here's what their official website (
MinxNails.com
) advises:
Removing Your Minx
Although Minx can last a awhile, you will eventually have to remove it as your nails will start to grow out. Do NOT use nail polish remover! We are proud that Minx is a green product and does not require chemicals to apply or to remove. We want to do our part in keeping mother earth healthy and happy. When you want to remove your Minx (so that you can put on a new set, of course), place your nails under a heat source (a hair dryer will do) and work loose an edge of Minx near a lateral nail fold. Slowly peel Minx off the nail plate going from side to side (not top to bottom). Apply a nail moisturizer when you are done, and have a back rub and a cocktail while you are at it.
The application process is similar to those stick-on nail strips that Avon and Incoco sell, but Minx is offered in lots of different colors, even metallics (which is a huge selling point for celebs). Or, they can be custom-made, as Janice told me that currently Beyonce and her sister Solange are sporting "OBAMA" Minx nails of black with silver letters. (To be politically equal because I try to be fair, I suppose you could customize them for McCain as well, with the Mc part on the thumb. If one really wanted to.)
Of course with such a high-tech and cool product, I admit I was a bit afraid to ask for the price. But, I am curious so I'll probably save up to try it sometime when I get back to the States. I love my polish, but it's interesting to try different products. Not to mention if Minx really does live up to it's claim of being chip-free, it would be the perfect solution for chipped nails on short vacations or especially business trips. I can sense this being a powerful asset for corporate women who are always on the go but want to keep a polished image.
Here's a picture of what "Golden Lightning' looks like (the same color Beyonce wore in her music video):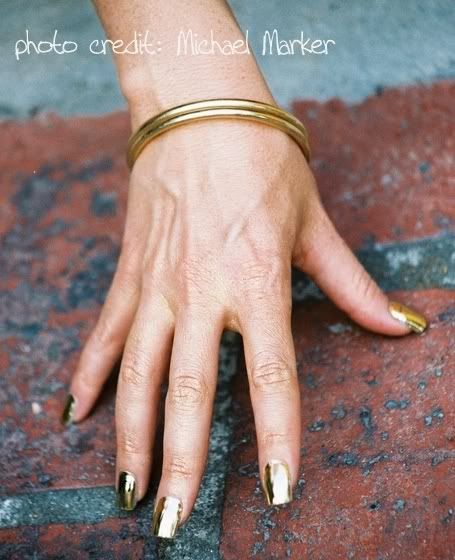 Photo credit: Michael Marker
Source: Janice Miller, Minx Nails
What do you guys think? It's a neat concept for sure though. I know it can't replace nail polish entirely (nor would I want it to, otherwise I'd have to find something else to blog about!), but I think as a once-in-a-while splurge, this could be a good short-term investment. It's definitely the most gentle alternative to acrylics or other fake nails, as there's no drilling and no industrial-strength glue. Alternatively, if anyone's tried it, I'd love to hear your experience.
Ok and as a sidenote, anyone who has a Nintendo DS and a R4 card, download
Taiko No Tatsujin.
It's such a fun game, and I've been obsessed with it. I love rhythm games, because my hand-eye coordination has only improved from playing video games lol.