Note: I had meant to post this last night/early morning, at around 1AM but my internet died =(
Barielle, the fab salon line that people (myself included) go gaga over their basecoats for, recently released a drugstore line. And I use the term "recently" loosely because I've been MIA lately (I
might
take it easy this quarter and only take 16 units instead of 20/21 units per quarter like I have been for the past year...understandably, I was a bit burnt out). All Lacquered Up already released the shades for their upcoming collection, but make sure you head over to a CVS and snatch up any of the older ones before they're gone!
Luckily, I was able to snag Date Night and Sneak-A-Peek. They are, without a doubt, the standouts:
Sneak-A-Peek is a gorgeous light dove grey with subtle silver shimmer. I don't have a lot of greys but I will admit this looked really nice against my tanner skin.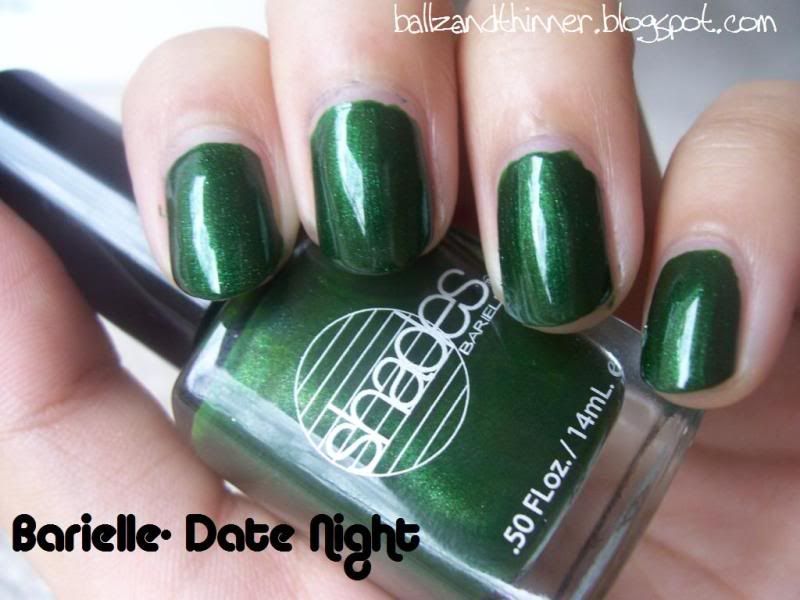 Date Night is just....amazing. I know green and blue are colors that people are really hesitant to try, but I'll be the first to encourage anyone to get this shade. It's the perfect dark green to compliment any skin color, with gorgeous olive shimmer to really make it stand out. I was afraid that the color wouldn't work for me because olive tones draw out the yellow in my skin (I really look terrible in olive green) but luckily on the nail it's different than how it looks in the bottle. It works a bit like camouflage... sometimes it looks darker, sometimes it looks lighter. The picture here, luckily, is the best representation of how it looks most of the time.
I've already gotten ansty with my purple nails. It's time to change them to silver and sleep =)