I usually associate pastel colors or lighter colors with Easter, but I couldn't decide on a good color. Then the other day while in a local Rite Aid, I spotted some Borghese colors on clearance for 1/2 off. It's a pretty good deal for Borghese polishes and one that hardly comes around so I snatched up Peonia Blossom, a pale pink frost.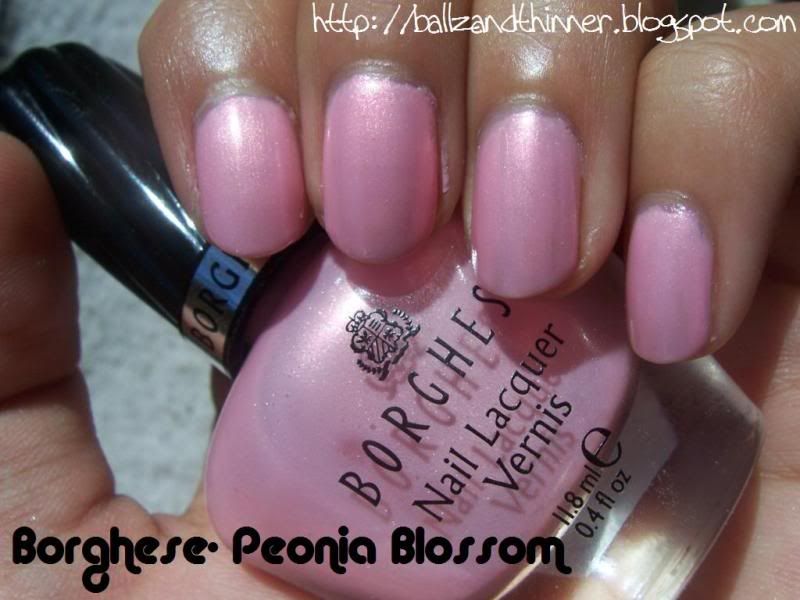 I gotta say....this was not the easiest application (also sorry for the mess around my middle finger). It was thick and kind of gloppy and streaky. I normally think Borghese brushes are fine, even though they are SUPER thick but...for some reason this was not the best experience for me. It also dried incredibly slow, but that might just be because of the goopiness. It's such a gorgeous color though, very ladylike and prim. It was semi-worth the $4 I paid for it, but definitely not worth the $8 retail.
But anyway, happy Easter! I actually had my own Easter miracle today, I was talking with a friend outside his apartment when a hummingbird dropped from the rafters onto the ground. It looked dead and wasn't moving so we scooped it up on a piece of paper and moved it to a grassy area (I wanted to bury it but my friend shot that idea down cuz we didn't have shovels and we'd also probably get in trouble). But then the bird started to beat its wings and flew up and away. It was awesome! This was after like not moving for 5 minutes. Well, some might think that it hardly counts as a miracle but come on, that's so symbolic! Yes? No? Ok, well I choose to believe so.
I also made this amaaaaaaazing carrot cake with cream cheese frosting for Easter. Since we don't have a mixer I have to mix the cake mix (boxed cakes are genius!) by hand and it was exhausting! I whisked the water and eggs together (I just realized now I forgot the vegetable oil) first, and then whisked in the cake mix spoonful by spoonful slowly so I wouldn't get gross chucks. It's exhausting but worth it....at least until I can afford a KitchenAid.