So today while with my sister at Macy's, I was wandering around when the sales associate at the Dior counter literally bombarded me with all the new Dior stuff. She was showing me their new perfume (which did NOT smell good actually), their fall collection polish (a deep berry red with subtle red shimmer, pretty but nothing special), lipglosses, etc. Then she told me that if I bought the new red polish and Gold Nugget she would give me a gift. And then she showed me the adorable white/teal bag.
Well, luckily I came to my senses and while I was VERY tempted by her offer, Gold Nugget alone was not enough to sell me. Which is why I ran over to the MAC counter and got two MAC polishes for almost the price of one Dior polish. It's called being efficient =)
The polishes I got were a part of MAC's new Lustre Twins collection, and I got 2/3 polishes. I passed on the purple one because it just wasn't very stunning. I 'll stick to my purples from Misa's Fall/Winter collection, thank you very much.
I wasn't really sold on $$$$$ Yes, the metallicy silver one, but I took the plunge because it just looked so beautiful on the ad picture. Here's the ad picture:
Gorgeous, right? Well, it's kind of that gorgeous in real life, with the right lighting. It does dry fast and is kind of streaky, but the end result is just beautiful. It looks like liquid aluminum foil on your nails! I used three coats and yes there are brush marks. The only downfall of this polish, really. It looks a bit dull without topcoat, but these are inside pics and not really a good representation. I just couldn't wait to share these pics with everyone, haha.
Here is $$$$$ Yes in normal light, with flash, and far away with flash respectively.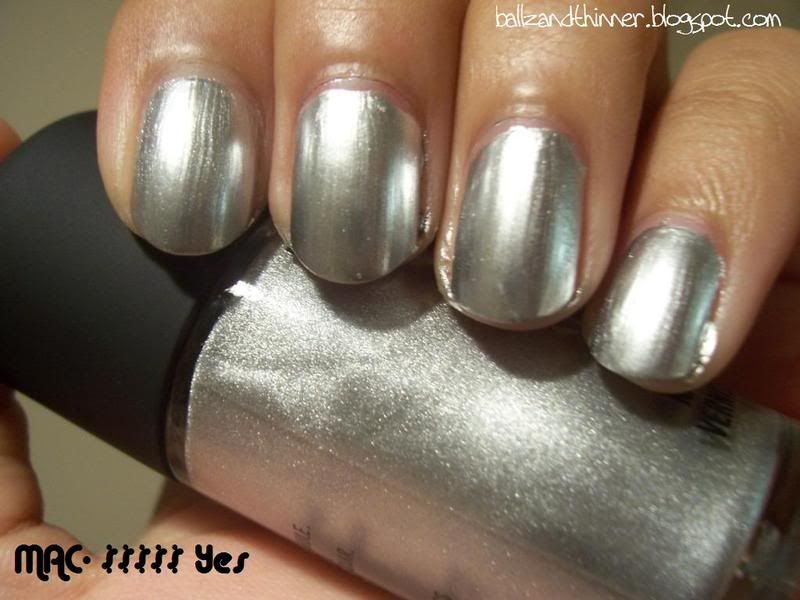 As you can see, it looks a bit dull in the first pic but the flash really captures the shimmer well. I was surprised how well it looked with my darker skin tone, I'm going to have to do a proper mani with the color and see how it looks in full sunlight. I've heard that Zoya Trixie is similar, if not a complete dupe of this color.
Firehouse is gorgeous though! It's a red with some orange undertones, but ultimately pulls to a true bright red. It was opaque in one coat, here shown with two coats:
Kind of looks like two colors completely huh? The second is definitely more accurate, though in real life it's a bit like a mix of the two. I don't know if it's because the most Project Runway episode was on or what (the challenge was to design an outfit for a USA athlete that could be worn for the opening ceremony of the Olympics), but this red reminded me of a very true red, a very patriotic red too. Despite it being frosty and showing brush marks too, I still really like it. I promise I will take more accurate pictures in sunlight soon.
I'm glad my first experience with MAC polishes has gone over so well. I was really iffy after buying it because I occasionally suffer from CSS (chronic [credit card] swiping syndrome) and then regret it after, but I'm really happy that I reluctantly took the plunge and a color out of my comfort zone, not to mention a fun red that's not much like my other reds.
MAC polishes retail for $11 and can be found at Macy's, Nordstrom, and indepedent MAC stores as well as online at
http://www.maccosmetics.com
.
Picture source:
MAC Lustre Twins
PS: So excited about the opening ceremonies of the Olympics tonight! Yay China!