Oh the cruelties of the cosmetics world: discontinuation. I adored the NYC Glossies...they weren't perfect but they were comparatively better than the NYC regular line. And for $2, they were a pretty good deal.
But alas, they have been discontinued and replaced by NYC: In A New York Color Minute which is way too long and so I'm shorthanding it to NYC Minute. It's drastically smaller than the Glossies were but I will say that a) the cap is easier to handle and b) the coverage on the two I bought were amazing!
Also, NYC Minute has a color called Chinatown, which remarkably looks similar to an old NYC Glossies fave....oh and I'm sorry, I got my NYC Minute blues mixed up. The color in the next three photos are of NYC Minute Chinatown, NOT West Village (this is what happens when you don't get any sleep)
Yup, the bottle is much smaller....3.4 mL less which is quite a significant amount considering the price has stayed the same.
Here is Chinatown and Midnight on my nail....can you tell which is which?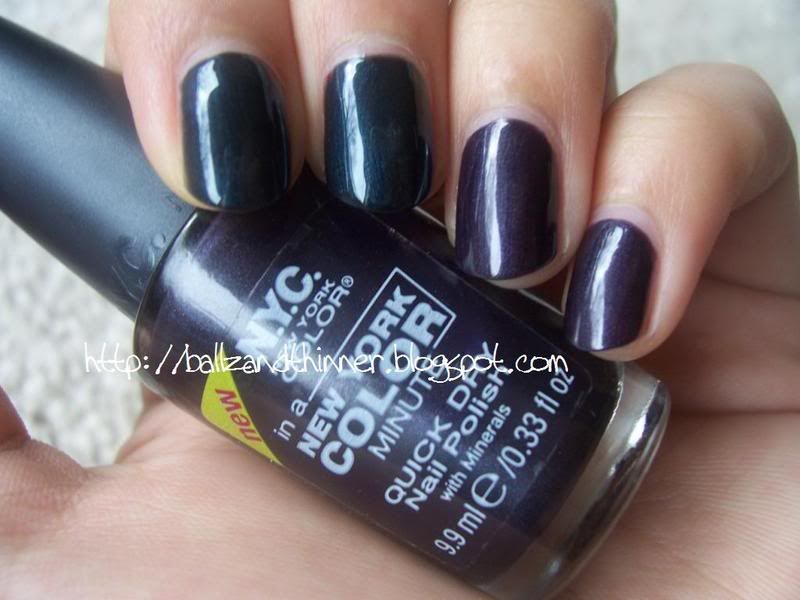 NYC Glossies Midnight is on my index & middle finger, NYC Minute Chinatown is on my ring and pinky finger
Here's the REAL West Village, the other blue. Where Chinatown/Midnight was a darkened navy, West Village is a true dark blue. Love it!
I was actually really impressed with the pigmentation. It only required one coat to be opaque, but they are shown here with two coats each and are at their best. Even though I will shed a small tear for the Glossies, I will admit that the Minute line in terms of application and stuff is a definite UPGRADE.
I've been super busy with school, LSAT classes and looking for an internship. Finals are next week too, so expect posts to be trickling in haha.