I do not like Sally Hansen's bajillion different nail polish lines. It makes life incredibly difficult sometimes. It would be so brilliant they were just condensed into just one line. Then again, maybe we wouldn't have like 80,000 variations of pink or red available for us.
Even though I give SH a lot of flack, it's easily one of the best and usually affordable drugstore nail polishes. That's because while I adore cheapo brands, Sally Hansen usually has a lot of variety, especially of late. But really, sometimes pink is just pink. And I say that as a polish whore with about 50 different shades of the same pink or red. But then again, I easily every color in the rainbow, even the colors I can't see.
Anyway, I LOVE Sally Hansen Lacquer Shine in Dahlia. It's one of the most multifaceted, "sophisticated" (read: not crazy BLING BLING IN YO FACE) glitter topcoats around. It's multicolored, fine shimmer with tiny gold flakes. I tried it over, what else, a pink Sally Hansen color, and fell in love. It was cloudy that week so I don't have fabulous pictures but you can see the results: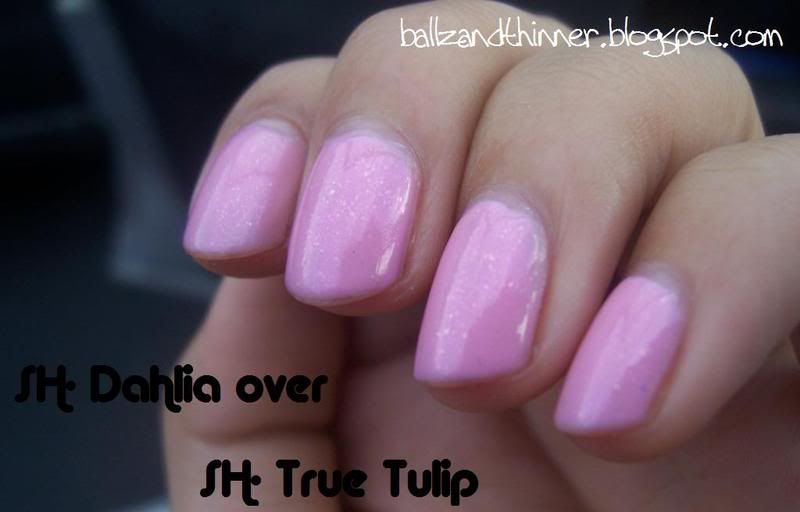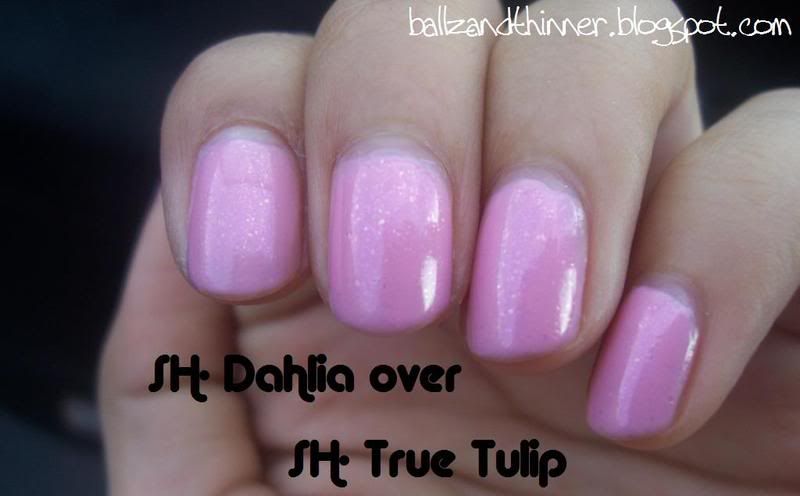 See what I mean about the sophistication? It's so subtle, but wonderful.
As with all good things though, there is a downside. Dahlia is not a clear glitter topcoat, so it will slightly alter the base color to be a bit lighter. So, it works best with lighter colors and black. You can layer anything over black.
Here it is over a darker color, LA Flare Green (a beautiful green creme PS)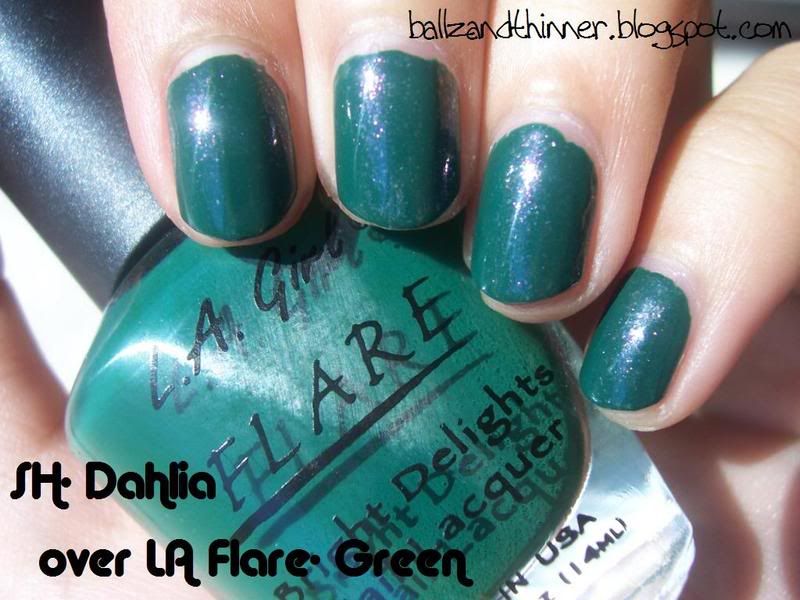 As you can see, the glitter also shows up a bit differently over LAF green. It's not unpleasant, but it does make a difference in color. That's really the only downside to this. But then I think about how great it goes over black and over lighter colors and I'm won over again. I'll have to play around some more but I'm definitely loving Dahlia.