It's weird. I've been
disappointed with Avon before
, but their other products aren't that bad and they have fantastic sales. Maybe it's just me.
Anyway, as I posted yesterday, I decided to finally try these dry polish strips. Avon first came out with them about two years ago I believe, and it's been popularized by Incoco (you can find them at Walgreens) and Sephora.
So, I've been carrying around these strips for a good half a year because I was a little hesitant to try them. Even though they were on sale ($3.99!), the Asian in me hates one-time use products. I want to get the most of my money! But I was optimistic about these.
(Sidebar: I'll keep these picture small. Firstly, my camera kind of sucks as you guys are well aware. Secondly, my nails are stained and horrendous up close)
It started out with so much promise......
Yes, that's Novak Djokovic as my laptop background. My favorite tennis player, as he's practically the same age as me but far more accomplished. Also, ignore my missing bracket key.
Here it is out of the package against the instructions (which btw were so confusing!)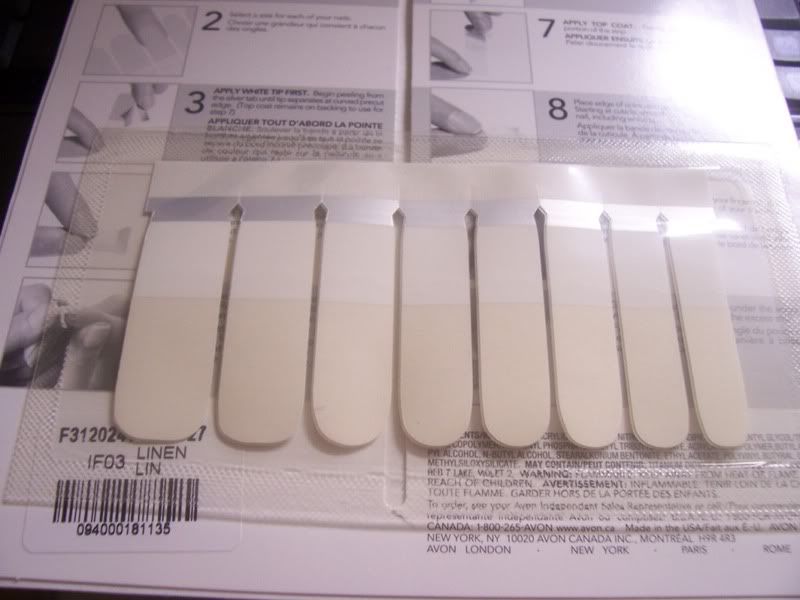 Basically for the french ones, you peel off the polish sticker to the perforated edge and apply the white tip first. I did not understand that until my second nail. But, applying it carefully can be a pain so you get a LOT of bumps. Also, it's hard applying the french tip close to the edge so I ended up with the super-tacky THICK WHITE TIP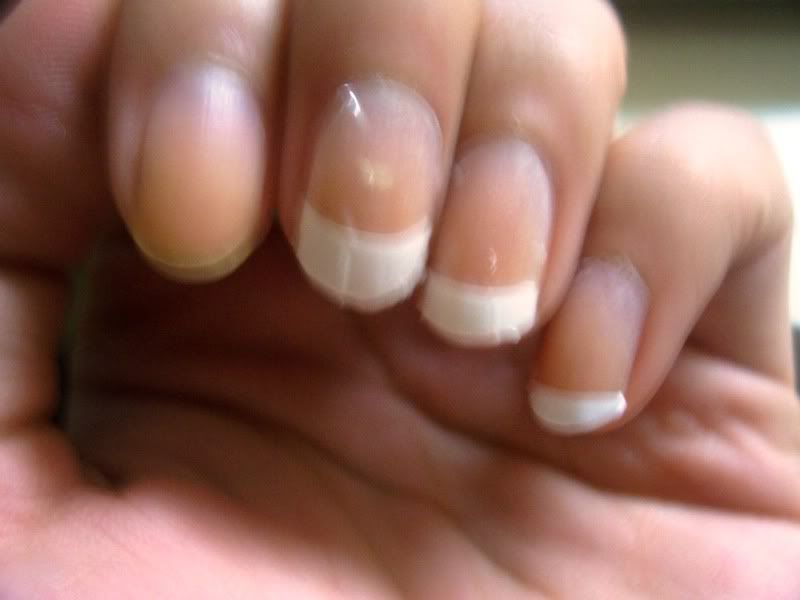 My patience was running out by this point, and I also discovered that the "topcoat" was really hard to apply quickly and there were lots of bumps. Color me unpleased. Can you see the bad application on my middle finger? It didn't even adhere to my nail!
My ring and pinky finger ended up looking ok, but I gave up on the "topcoat" at this point and just stuck to sticking the white tips on. I was determined to see this project through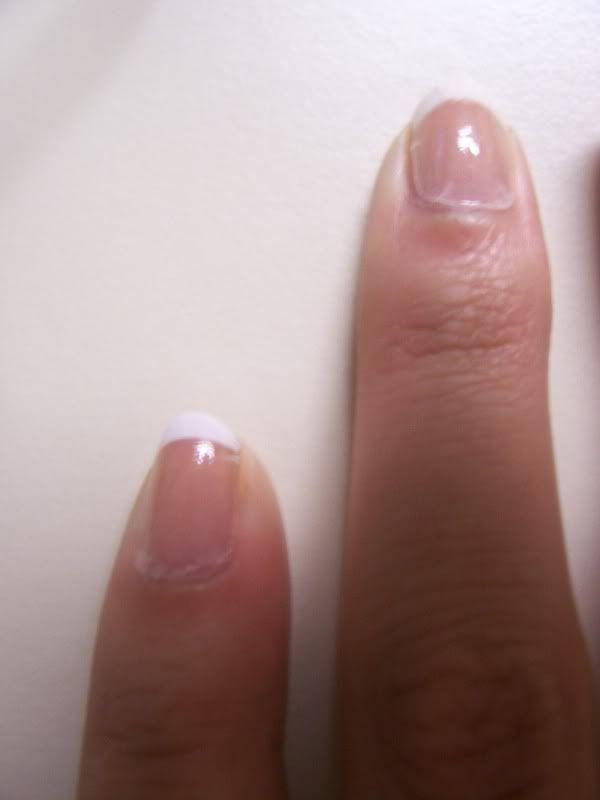 Sooooo unattractive. Can you imagine if I had gone to the interview like this? Eek!
I love taking pictures at this angle. It's deceiving, because it's universally flattering. Kind of like the "myspace angle" of nail pictures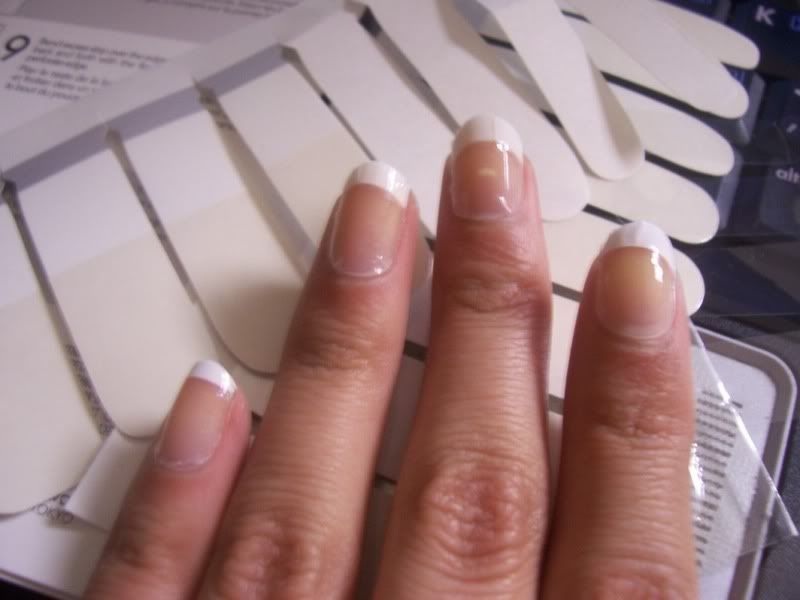 But close-up reality is ugly:
The only good finger to come out of this hot mess is my pinky, which ironically I screwed up wrong because I didn't know how to apply it because the directions were CONFUSING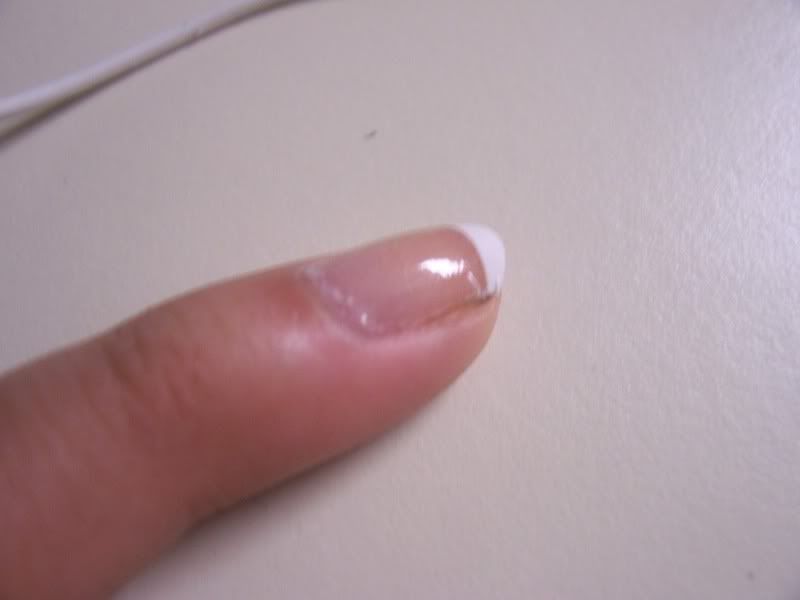 Maybe, if you squint really hard....nope still looks pretty bad. Even the miracles of Orly tinted polish couldn't save this
And this is everything I threw away....so wasteful
Ok, well I did kind of like the tip part of the stick-on polish. I think it's incredibly handy for someone like me who seriously can't freehand french tips if their life depended on it. Not to mention super handy for those that want to do a dark base/white tips funky french. But, I don't think I would ever pay full-price (they retail for like $7-8!) for ANY stick-on polish. I have a feeling the full-color ones are a lot easier to apply so I might try these again when they're on sale and I have more patience. There were times where I ripped the excess stick-on part off too agressively and it would tear a part of the tip off and it would just agitate me more. I now know that it's not like regular polish and I can be done and out the door in 20 minutes....lesson learned.