Don't ask why I'm still up at 4:50 AM. I've always been a bit of a night owl and sometimes I just can't sleep well. And sometimes I mess up my sleep cycle. Anyway, I have to be up in 4 hrs so I'll keep this post short and simple.
So I was talking to my sister on the phone today and she was telling me how she's been doing a lot of frenches lately because she discovered this method of doing french tips that's apparently amazing. Since I suck at them, she's going to teach me when I go back home for spring break. I'm excited for it!
However, until then, you guys are stuck looking at my crappy attempts at french tips. I did this one in the beginning of February during Chinese New Year and used those french guide stickers. It kind of worked but the glittery tips took forever to dry so they look kind of bad, sorry! I made the pictures smaller to spare ya'll the agony.
So without further ado, my funky french in honor of the year of the ox (and my aunt is an ox! But in China since ox's aren't that attractive they default to pictures of cuter cows...sorry I'm a bit ADD at the moment). I used NYC Glossies 227 as the red base and OPI Thrills in Beverly Hills for the tips: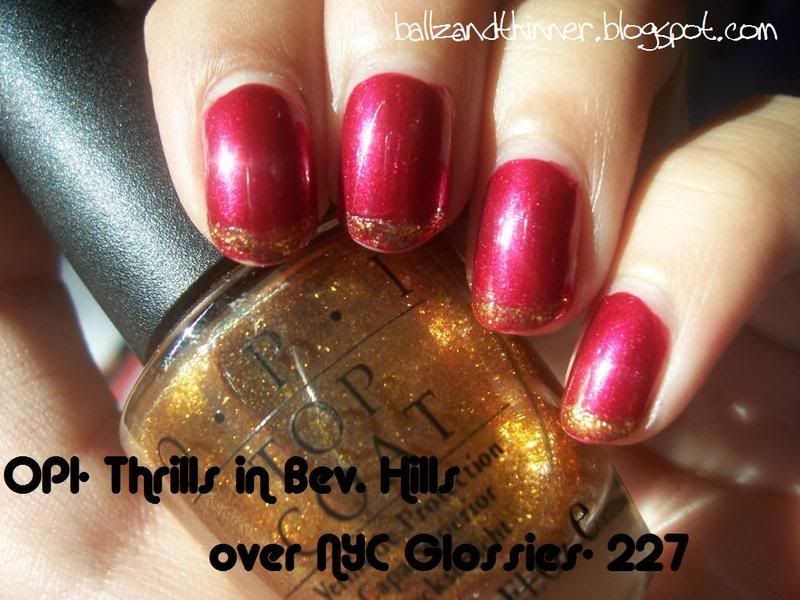 Yeah...Thrills in Beverly Hills is a glitter topcoat so I had to use multiple layers and then smudged it. Since it was a busy week...I actually forced myself to have flawed nails for like three days. Oh, the horror =).
Good night/good morning!