This could hardly be considered as early morning hotness, more like early morning ????????????
I've never bought anything from Avon before, but about three months ago I ordered some stuff online because there was a free shipping over $15 code. I mainly wanted to try their gel eyeliner because it was on sale, and I also really wanted their
Women's Empowerment Bracelet
. So while struggling to fill up my cart, I naturally turned to nail polish. None of the colors really impressed me and the colors swatches they give you on the website are terribly small. I ordered Avon Midnight because it looked like an ok red and the name evoked something exciting.
Well, it definitely didn't live up to it's name. It's a medium-red with strong brown tones and bronze shimmer (Wikipedia identifies this type of color as "russet".) It looked ok in the bottle, and when I got it I immediately opened it to swatch onto tape. I normally do this with all my polishes, and it looked ok. Nothing too exciting but nothing revolutionary either. However, a couple of days passed and I noticed that my polish was diminishing! Sometimes evaporation happens (I think my Essie Strawberry Shortcake has evaporated a bit, and I know many people who have ChG Moonpool have had this happen too), but I've never seen it happen so fast. I only opened it
once
and tightly closed it and eventually the evaporation stabilized to this:
Kind of noticeable, eh? I'm sure I could have returned it but online returns are such a hassle. Even returning stuff from Amazon.com, who makes returns very simple (I love them and their preprinted and prepaid shipping labels), can be exhausting and annoying, especially if you're waiting for a replacement. I also don't know any of my local Avon ladies. So, because I'm a firm believer in not judging a book by it's cover, I decided to try it out.
After trying out this color, I decided that it was ok that there was so much evaporation because it just means that there was less of it to go around. Let's just say that my tan Asian skin does NOT go with russet.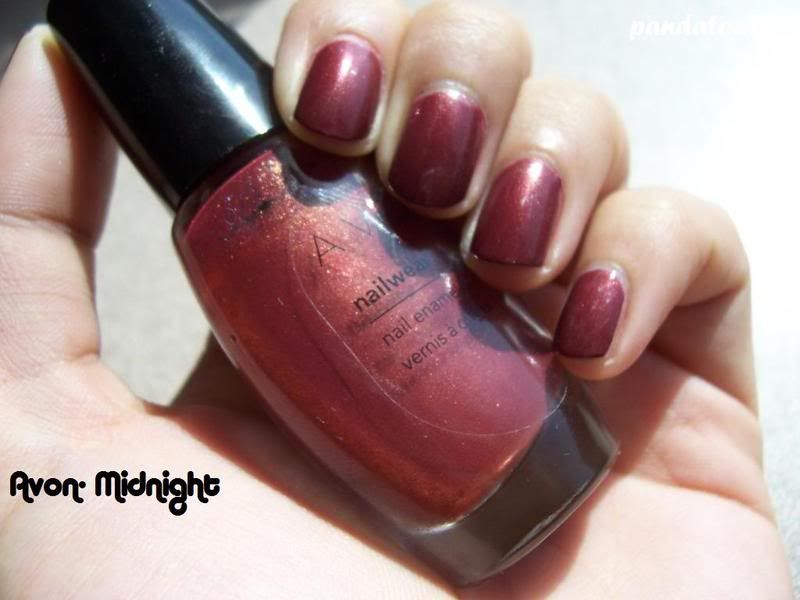 Do you see how horrible the polish looks against my skin? It looks, for the lack of a dignified word, like poo on my nails, which isn't helped by the fact that this color is so dull. Since I put this on at night, I allowed myself the 12-hour rule and waited to see how it looked in sunlight. But as soon as I took this picture, I busted out my nail polish remover. While the application was pretty fantastic, it's going to take a while for me to order polish off the Avon website again. It would be helpful if they provided a description of a color instead of a dinky little color swatch. Luckily there was a sale on nail polish and I didn't pay too much for it.
I did however just visit the Avon website and they are no longer selling this color and, I'm happy to say, upgraded their swatches to be a bit more clearer. Still no description of color to accompany the swatches but they are larger and clearer now so it's not entirely necessary, even though I believe in the more detail the better!
Maybe down the road sometime I'll buy some more Avon polish to try, but since I'm not in dire need of any Avon or mark products right now, it will have to wait.