Sometimes the best way to express your mood is through color. Yesterday marked the last day of China's national three-day mourning period for the victims of the recent earthquake. Since I'm Chinese, I felt that it was appropriate to honor those who died and those who gave their lives to help save potential survivors by wearing black on my nails.
This is no ordinary black though, for me at least it's pretty symbolic. Sally Hanson Lacquer Shine in Glossy is a black with red shimmer. Since China's national flag is red, it was the perfect color for this occasion. Sadly there was no sun today because Southern California's weather was crazy, and so I couldn't get any good pictures. There were actually tornadoes in the county!
Anyway, for the most part Glossy just looks like black.
*edit*: I'm viewing from another computer and using IE and the above picture was pretty horrific because it has the darkness and the abundant yellow tones going on so I removed it. When I'm able to get a better picture of it that doesn't make me look jaundiced on some screens, I'll post it.
The gorgeous red shimmer comes out more noticeably in sunshine but here's a bottle shot of the shimmer: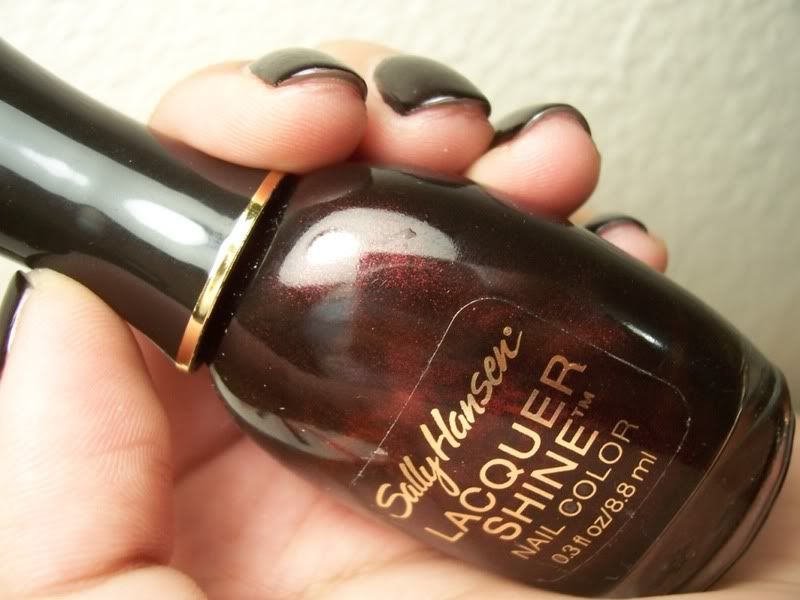 Luckily Glossy is still part of their core collection so it's very easy to find.

For more information and ways to help both the Chinese earthquake and their neighbor who also suffered from a natural disaster, the Myanmar cyclone, check out their Red Cross pages: