Yes, I know it's another early bird post. I have bad sleeping habits in general but also because of my class schedule. I slept in today, but as my friend pointed out earlier, hours of sleep don't work like Cingular (now AT&T)'s rollover plan! I'm sleeping soon but before I sleep I'd like to introduce you guys to the magical world of holographic nail polishes.
Sally Hansen is a pretty popular drugstore nail polish brand. Like Essie, they have many pinks and neutrals that are great for conservative workplaces or if you want low-maintenance colors. However, Sally Hansen does do something odd that Essie doesn't....it has many lines within its core line. There's the Hard as Wraps line, the Opal lines, the Salon line, the Xtreme Wears line, the 10 Day No Chip line....is your head spinning? Well, I'm pretty sure I've forgotten a line or two. I don't really know why SH decided to go with this particular marketing strategy because it does make our lives harder as bloggers since we have to type more but it's a shame that their best line to date (in my opinion) has been completely discontinued.
I'm talking, of course, about the Sally Hansen Prisms line that featured holographic and duochrome polishes. Before OPI and China Glaze jumped aboard the holo train, SH was the brickmaker of every holo-lover's fantasy. And even though OPI and China Glaze do holos really, really, REALLY well, let's face it, they can get a bit pricey if you buy them retail (though sidenote, I am so happy that ChG is going to be available at Sally's! My credit card is going to get quite a workout when more colors are going to be added). Who doesn't love a drugstore deal?
Coral Amber is a gorgeous holo polish with a great coral base color. I'm a huge holo lover because holos are so expressive; it's a kaleidescope of colors and sparkle on your fingertips! It's like being able to wear a rainbow without being labeled a fashion disaster.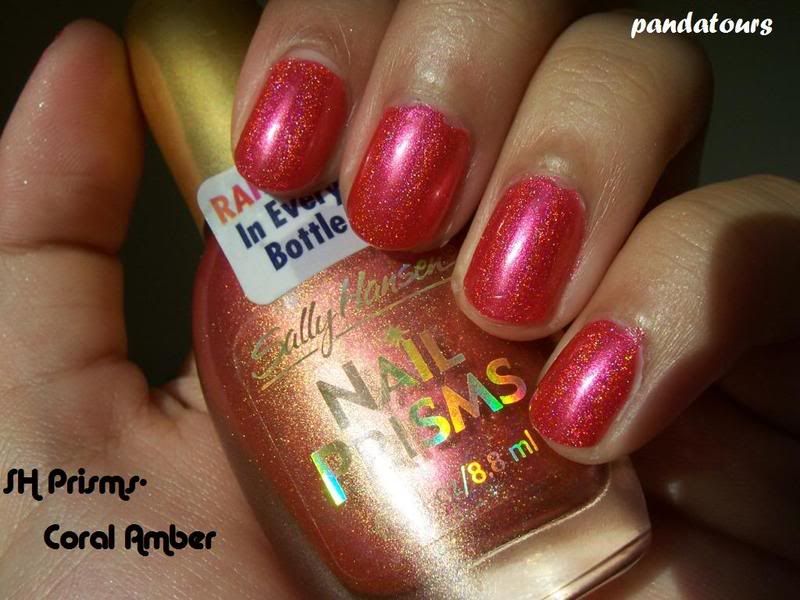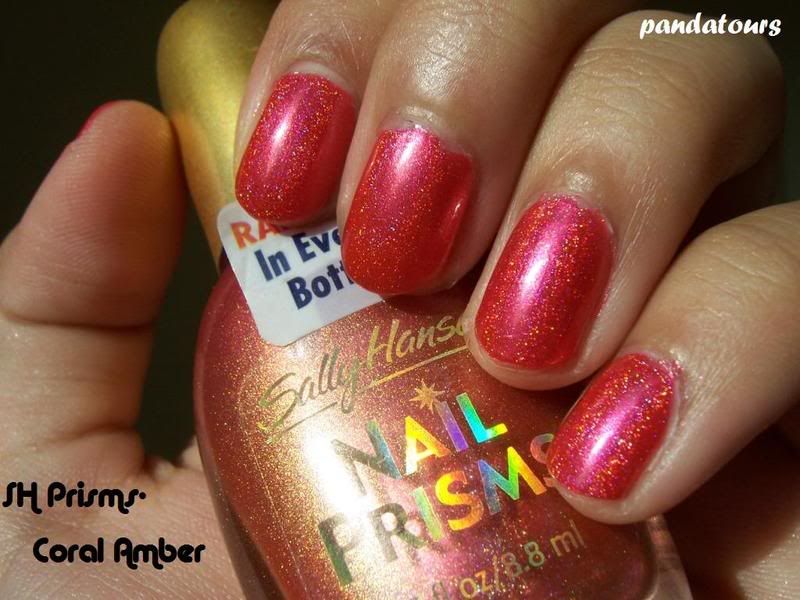 However, hope is not lost. Some drugstores still carry the Prisms line for full price (around $5, I think). I've seen some at local Walgreens and Rite Aid's. If you do manage to find them, don't be fooled by how unspectacular it looks in the bottle, this baby comes alive when it's on your nail! I'm sorry I didn't tried it sooner!