Ok, I lied but I will sleep soon! I completely forgot about these pics though, but here is one of MAC's newest LE polishes, Naughty Nautical. The name reminds me a bit of the latest Color Club collection's blue, Naughtycal Navy but the colors are so different! Color Club's Naughtycal Navy was a straight dark navy, almost black creme. MAC's Naughty Nautical is a gorgeous sparkley navy blue...less purple than OPI Russian Navy and a bit darker & richer than OPI Yoga-ta Get this Blue. I think this may be my first MAC polish!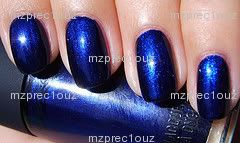 What do you guys think? Are you over the blue trend? I could never be, but I must admit that this does look a bit like almost every blue out there. But hey, if there can be so many variations of pinks and reds, why not blues as well? Now there just needs to be more greens out there...
This post was full of tongue-twisters, wasn't it? Try saying "MAC Naughty Nautical and Color Club Naughtycal Navy both have a naughty nautical theme" ten times fast! I just got confused by just typing them!