I won't be able to post for a few days because school is getting busy again, so here's a lengthy post to tide you guys over! I was given the opportunity to try out Essie's summer collection. Now, I know that Essie gets a lot of flack for not being terribly creative or innovative with their colors but sometimes you need classic and classy colors(or at least what society thinks is classy, I think anything is fine). Not to mention they can be streaky. Now, when I first saw Essie's new collection, my reaction (and echoed by the nail board) was....meh. But given the opportunity to try it, I must say that this collection comes highly recommended.
True, you probably don't need all the colors, but if you really really want one of these colors, I say take the plunge and get it. The application was surprisingly amazing for all of them (My Place or Yours and Movers & Shakers were only slightly streaky but even then the application was great). I could go on and on about the application and glossy finish of these polishes, I think that's really why I've got this silly little crush on these polishes.
L-R:

Escapades, Guilty Pleasures, My Place or Yours, Secret Stash, Movers and Shakers, Risky Business


From the press release:
Escapades:
red, red-coral
Guilty Pleasures:
pink strawberry bliss
My Place or Yours:
a sophisticated pink rose
Secret Stash:
dramatic, traffic-stopping fuschia
Movers and Shakers:
sassy, bold pink
Risky Business: `
glam red meets shimmery tangerine
*click on pictures for a closer view*
I honestly didn't see much coral in Escapades, to me it's like a tomato-red. Though very pretty, it seems like a very familiar color. (please excuse the dark stains, it's from removing DS Fantasy)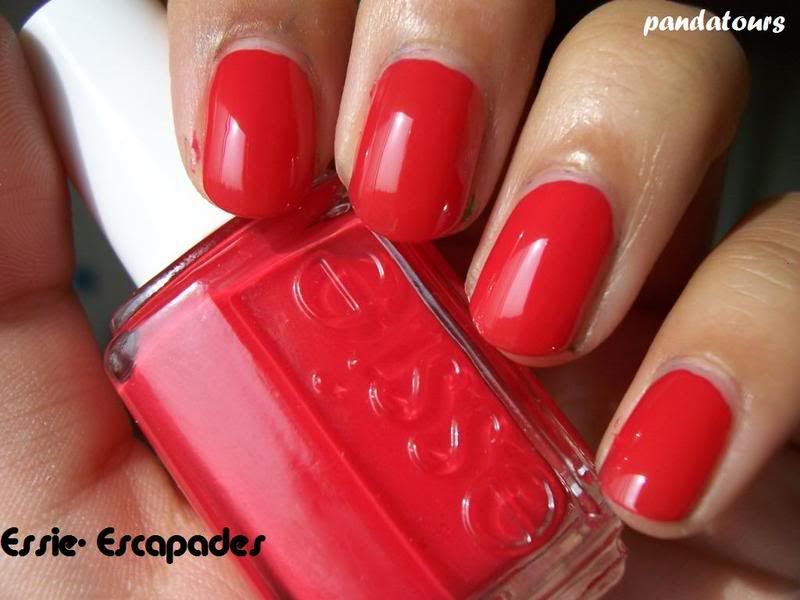 Guilty Pleasures is very appropriate for summer, it's a great bright pink. I can easily see this pair with a little black dress or a black bathing suit/bikini for a cute flirty look.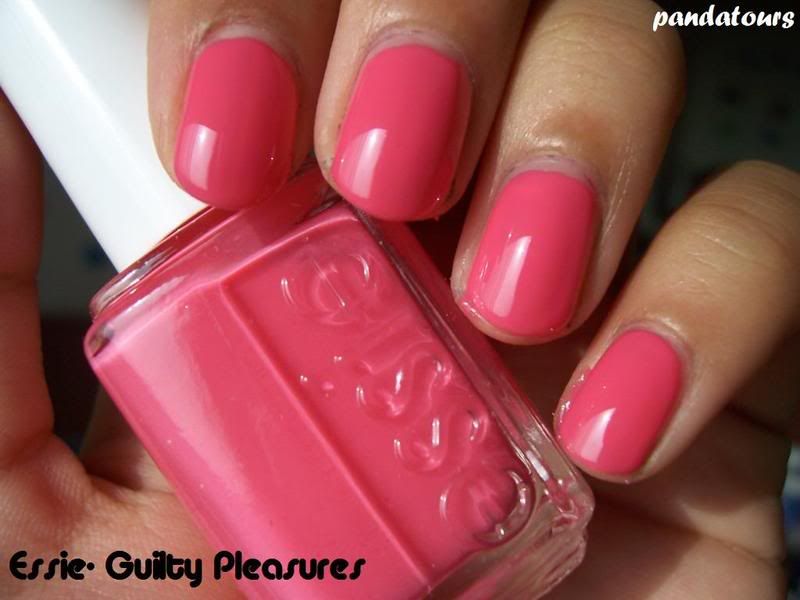 My Place or Yours is, as I've mentioned before, only a bit harder to apply than the others. It's the softest pink in the entire collection and very much up my alley.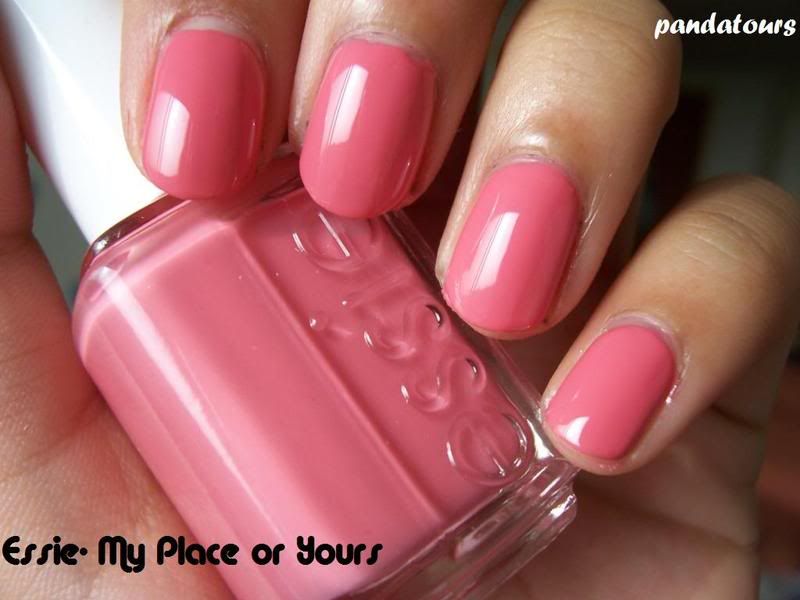 Secret Stash is definitely a bold color. I'm not a huge fan of purple tones despite of how it looks on me but this color, I will grudgingly admit, is pretty hot. It's got a great almost jelly-like finish.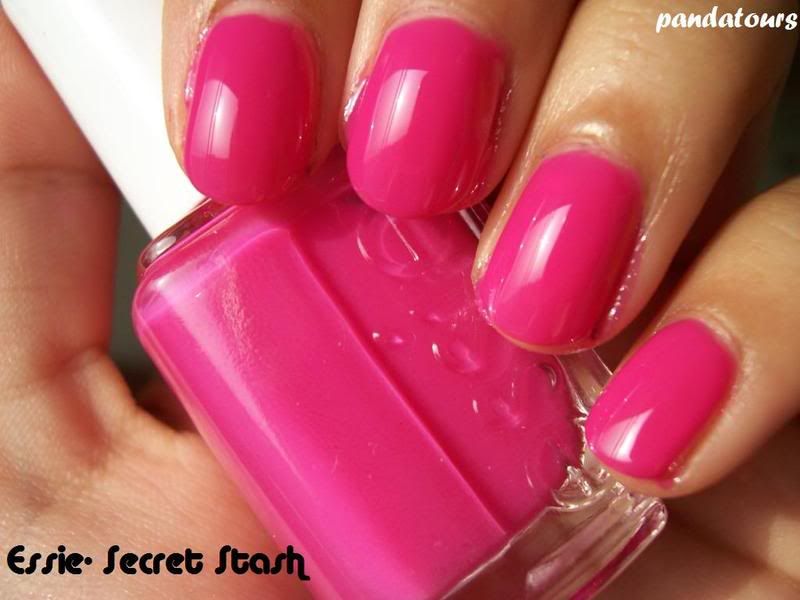 Movers & Shakers is yet another pink infused with a bit of neon. I think this is maybe the most neon you can get away with in a stricter work environment.
Finally, I saved the best for last. Risky Business is the only non-creme in this collection, and embodies the great subtle shimmer that Essie's can have. It's a very wearable orange but my only gripe with this is that it's very sheer. Three coats make it opaque, but I found that even with four coats there was still a bit of visible nail line up close. However, it is a very glowy color, packed with gorgeous shimmer. I do wish that this were more pigmented, but I'm wondering if the sheerness is what makes this color so wearable? Or maybe this color would be even greater layered over say, Escapades? Ok I've got to try that! But here is Risky Business alone: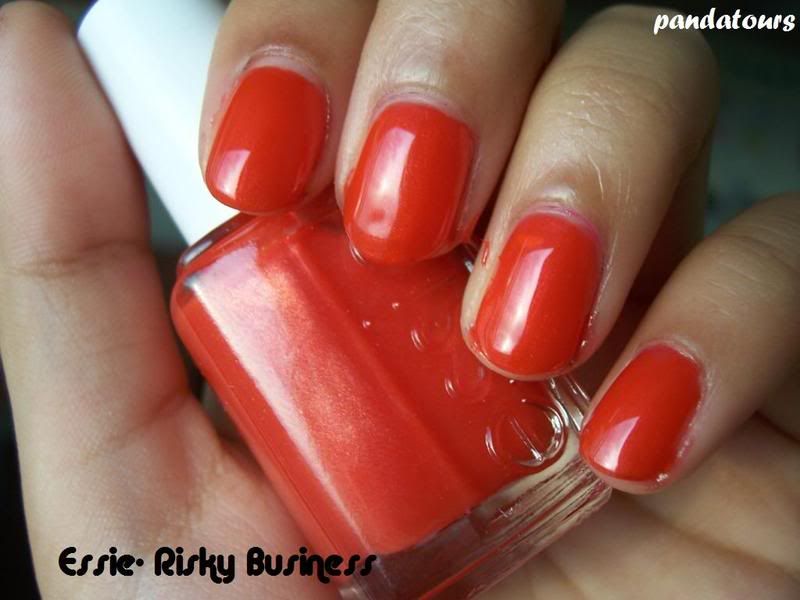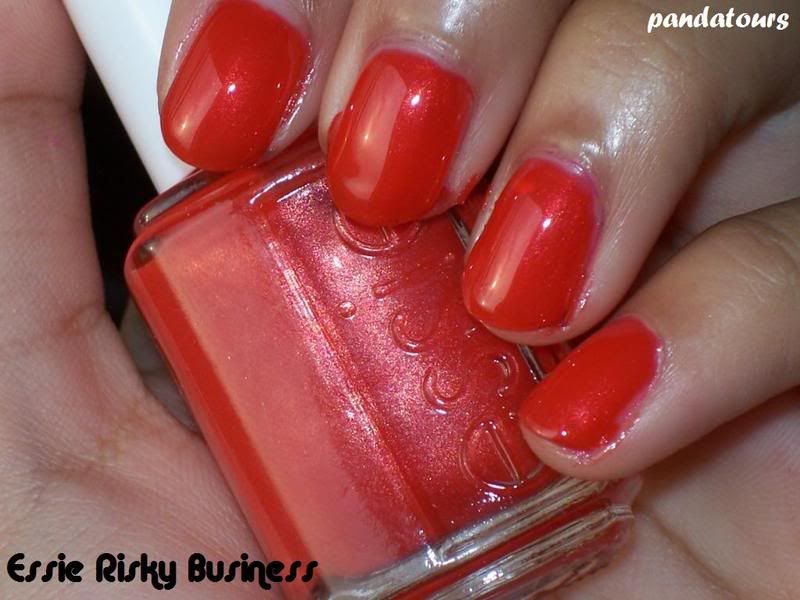 Bottom line? You could probably live without all the pinks, obviously. But I do think that if it's in your budget, you can't go wrong with any polish in this collection. I didn't really get excited about any of the colors until I put them on me....such is the beauty of swatching. By the way, I did all of these swatches without any top coat, so you know the finish is pretty great. Even though none of these colors are incredibly dramatic (except maybe Risky Business), they are still very pretty with great application (I just had to say it just one more time! Application is usually what sells me because painting my nails relieves a lot of stress, except some polishes make it more stressful).
I would however love to see more unconventional colors from Essie. Another green and blue such as Dominica Green and Starry Starry Night respectively couldn't hurt, right? I did hear rumors of a neon set from Essie though, I'll have to check that out next time I go.
The summer collection is in stores now, Essie retails for $8.00 US and C$11.00 CAD, and can be found at Ulta, select beauty supply stores, and online at e-tailers as well was essie.com.