Right now, I'm rocking what might be one of my favorite dark blues, DS Fantasy. It has a dark, almost navy but not quite blue base with a lot of multicolored shimmer. While it's not a holographic polish to the extent of the other polishes in OPI's DS line, it does have a nice subtle holo. As ridiculous as the price is for the polishes in the DS line, I will admit that it's worth it for this one polish. The best part about this polish is that it applies like butter on a baked potato. I know many gripe and complain about OPI's ProWide brush and I'll admit that the ProWide brush sometimes makes for a WORSE application, but for this polish, the application was amazing. Fantasy was opaque in one coat, so I only needed two coats (I usually do three), which I was very happy about.
Unfortunately, the sun wasn't out today so I wasn't able to get pictures of my nails today, but here are some older pictures. However, they were taken during winter so they aren't exactly the best pictures to show the slight holo of the polish. The base color is a pretty accurate depiction though. The first picture gives you a better idea of the shimmer, the second color is a good representation of the base color and a bit of the holo.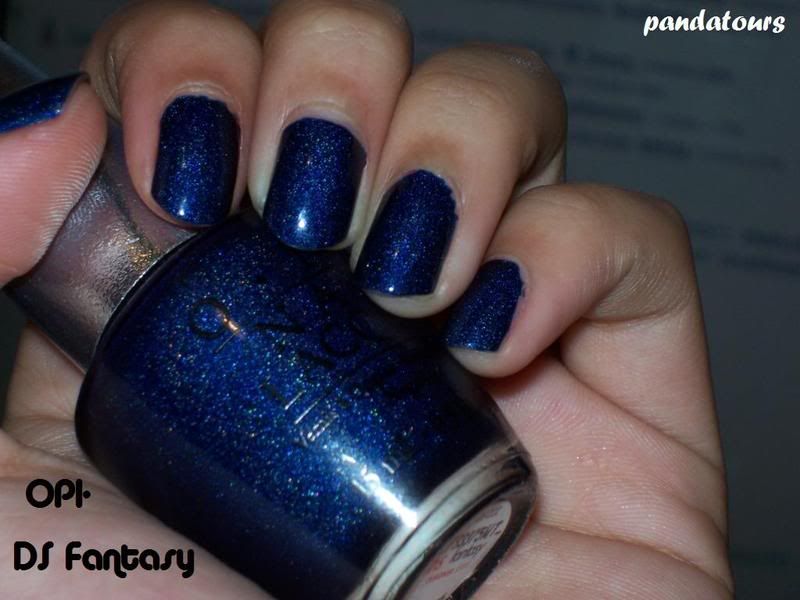 Isn't it a gorgeous polish? I'm so glad it only needs two coats, that means I get through the entire bottle a lot slower! Sadly, there is a downside to this gorgeous polish: it leaves notoriously horrible stains, even with the best base coats around. Just be forewarned....but well, we all have to make a sacrifice for beauty, right? I know for sure that once I take this off I'm going to have to whip out my buffer and my
Bubble White
in an effort to get my nails out of the Cheeto Dust phase. It's so worth it though!
....I'm kind of craving a baked potato now. And Cheetos.