Here are pics of Orly Live Wire & Icing Smooth Like Butta for MUAer psychoswim....I think Michy will love these as well.
Orly Live Wire is everything I thought it would be and more. It's a nice soft yellow, not too neon but not too pastel either. It has gorgeous shimmer and maybe on the sheerer side but still very opaque. This is three coats, and with flash...the color is a bit brighter IRL. It's really gorgeous and worth the instant gratification: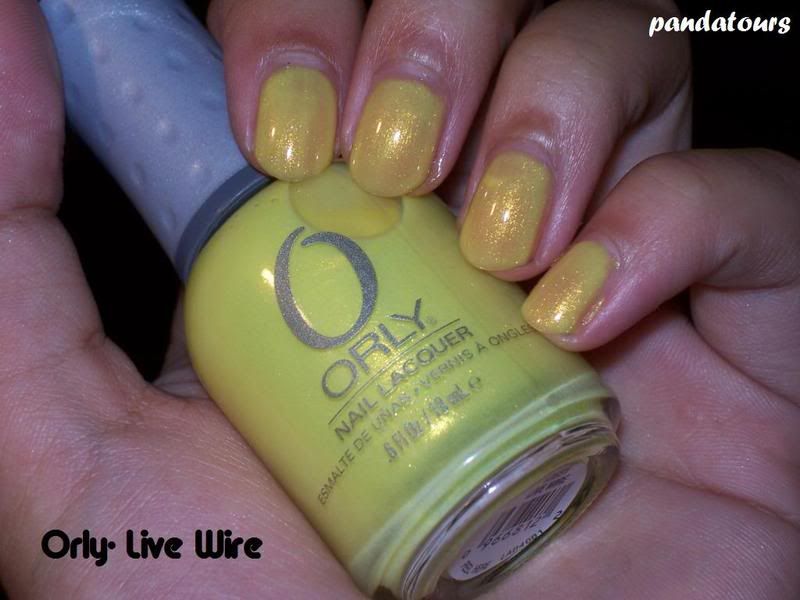 Icing Smooth Like Butta definitely did
not
apply as smoothly as butter, unless you're talking about cold butter over cold, raw tilapia. And since I experienced that earlier, it's neither fun nor easy to do. SLB applied pretty streaky and uneven so I slapped some Out the Door over it which evened it out. I don't use basecoats or topcoats when I'm swatching, so this color turned out more mustard-yellow than neon yellow like in the bottle. Since I messed up my index finger anyway, I decided to try layering SLB over one coat of Pure Ice- Super Star, which is an opaque (albeit kind of streaky) white. The result? From the pic below you can see that layering it over an opaque basecoat (like a ridgefiller) or a soft white (even though I used like a white-out white) really brings out the glorious neon of it.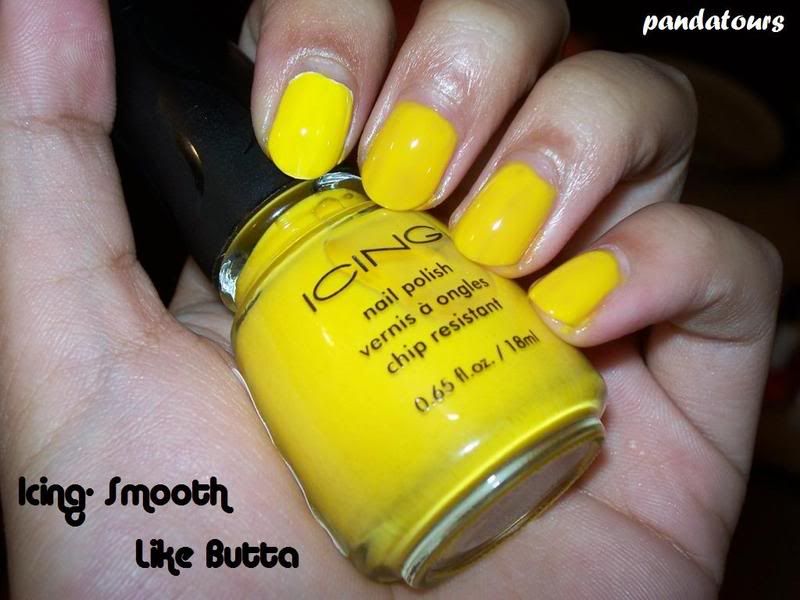 See you can hardly tell it was streaky, can you? OTD is good stuff, though any good topcoat will do.
Of course, I had to get in the best of both worlds:
Definitely makes Smooth Like Butta less mustard-y, don't you think? The index finger is 1 coat of Pure Ice Super Star, 2 coats Smooth Like Butta, 1 Coat Live Wire.
Live Wire is one of the newer Orly's so it may take a while for it to show up at Sally's. If you can't wait (like I couldn't), you can get them at CVS (though mine didn't have them) or Ulta for $5.99 and $7 respectively. Smooth Like Butta is available
only
at Icing stores for $3.50.
Definitely time for me to sleep now! Though trying on these yellow polishes made me feel happy for sure. I really hope that more opaque yellows will be available (though I passed on Essie's neon set and MAC's latest one because they both looked too frosty), Michy's really passed on the yellow fever to me! Though recently I've developed orange and coral fever as well. Which is strange because I don't really know what coral is. Colorblindness is the bane of my existence! Well that and my credit card, as evidenced by today (yesterday's?) shameful haul.