Now, I really despise this so-called "celebrity." Maybe she's really a nice girl in person, but she's kind of famous for doing nothing and seems to be everywhere. Now, sometimes she does make good nail polish choices, I'll give her that- she's only one of the handful of "celebrities" that wears straight white nail polish.
But this....is kind of tacky.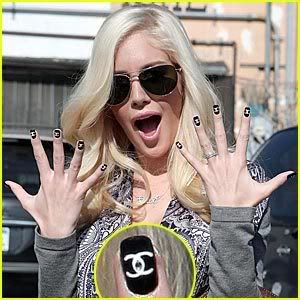 Now, I'm a sucker for logos as much as the next person....there's no denying that they're a strong part of our society. And I have nothing against Chanel. But seriously, what is this??????
It's a little...TOO logo-y (it would be acceptable if it were only on a couple of fingers but it's on EVERY. SINGLE. ONE.). And also looks kinda cheap. And it's a little too desperate to flaunt it. Here's a hideous close-up:
Picture Source:
JustJared
I don't know whether to laugh because it's so tacky or cry that someone at the Chanel store actually did this for her. Because Chanel is supposed to be like the epitome of class! And this is....so not.
What do you guys think?