Sorry for the trickling of posts guys. Though I'm young, I still remember the days before the internet and modern cable with its 9 million channels. In fact, I remember as a child I used to spend time outside. Sometimes at a park. Always doing something. Ah, the days of fresher air. But these past few days I've been without internet or tv, and it's made me realize how dependent I am on technology. Not always a good thing, but it's kind of hard to be a blogger without the interweb. Anyway, for the time being I'm just going to be spending a lot of time here at school mooching off the free internet we get.
Anyway, during one of my many days without the internet, I couldn't decide on a color to paint my nails. Being desperate, I ended up just texting one of my friends and asking him to pick any color. He picked blue. At first I put on a dark blue, but it wasn't meant to be- it bubbled and I just didn't like it. I found perfection with the second blue- Jordana Sapphire. It literally reminds me of how ocean water is supposed to look like. It's a gorgeous light, jewel-tone blue with just enough sparkle. I love it.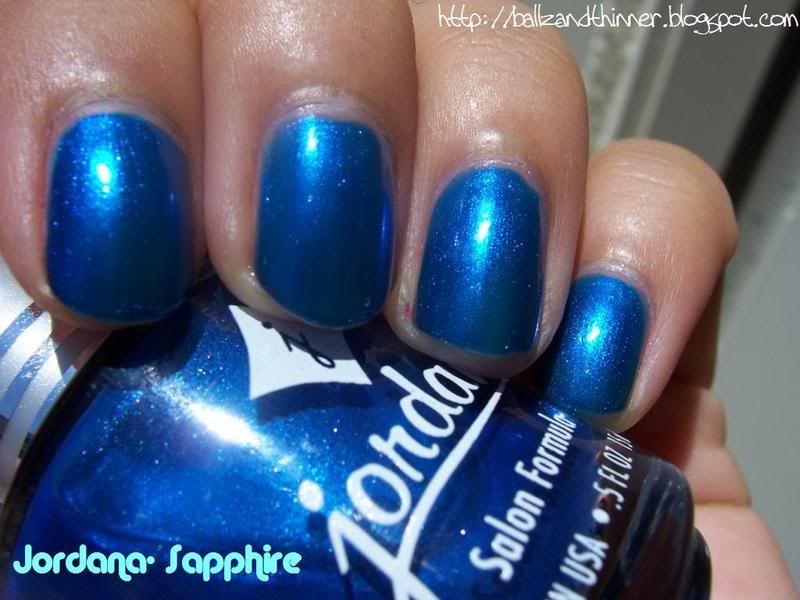 Jordana polishes are kind of hard to find, I found mine at a random non-chain 98 cent store. Sometimes you never know what you'll find in those stores, it's always worth looking in my opinion. Jordana and Kleancolor are both brands of polishes that are underappreciated and undermarketed that you can find in those random dollar stores.
I think this polish, along with some of my other blue polishes, will be enough to tide me over until China Glaze launches their
Bahama Blues collection
. Of course, by then I will be studying in China. I have no idea what polishes I'm going to bring! I'll probably bring OPI Shanghai Shimmer and then maybe OPI 20 Candles on My Cake since I'll be turning 20 when I'm studying abroad! And then I'll just buy the rest of my polishes there. I'm excited, two months to go! It sounds like a long time but time flies during the summer.