As of 1pm today, I finished my last final! Whew, it feels good to get that out of the way. Though overall the past 24 hours have not been good, I like to focus on the positive. Never mind the fact that I barely got three hours of sleep and pretty much look like the Crypt Keeper, and that my room is a mess and I need to get my ass in gear so I can start moving tonight, it finally feels like summer!!!!!!!!!!
Summer always reminds me of sunshine. And today, despite my mood, there was plenty of it. So here's a great color that sums up my mood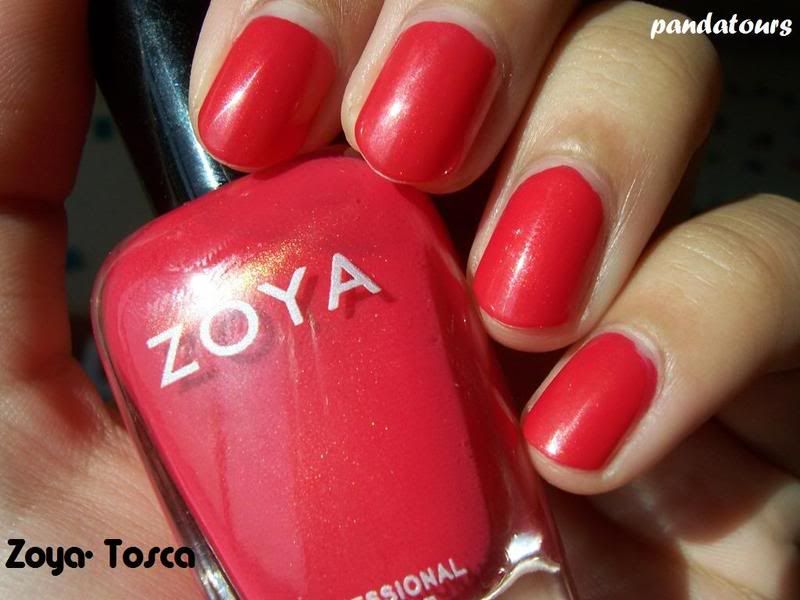 I love how bright and fun this color is, though I wish the golden shimmer you see in the bottle would translate better onto the nail (like OPI's Cara Mi Crimson) but it's still a nice cheerful polish. Zoya polishes can be hard to find, but they can all be ordered through
their website
as well.
Zoya polishes are usually named after someone or something. I Googled Tosca to see what comes up and it's the name of an opera by Giacomo Puccini, the same composer as La Boheme and Madama Butterfly. He also composed the amazing "Nessum Dorma" and "O Mio Babbino Camo." Ironically, I was just listening to those songs on my itunes through a great band called The East Village Opera Company. I listen to all kinds of music, and EVOC is amazing, giving a modern twist on classical tunes and opera tracks. My favorite still has to be their version of
The Marriage of Figaro
by Mozart (it starts at the 1.50 mark).
Despite my excitement for fun summery colors, I think my next nail color will be blue to celebrate the birth of a dear MUAer's son! Congrats to tobywoo and her new son, everyone is so excited for her =)