I've always passed by Borghese polishes in CVS and/or Rite Aid, but the $7.99 price tag always turned me off. Due to an error in tagging at a local CVS that made it on whole dollar cheaper, I decided to try it out.
Borghese polishes have a very unique brush. It's actually two small brushes put together to form a curved tip: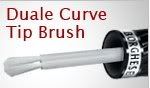 Despite how strange it looks, I found that applying using the brush was much better than using the OPI pro-wide brush. Well, I love the pro-wide but it can be difficult sometimes. So, the application was fairly good. The pigmentation and the coverage of the polish was also amazing, it took one coat to be opaque and in this picture it's two coats:
It also dries glossy, which is nice. However, since I was in a rush when I put this on, it didn't stay glossy when I was out for two hours. Which only proves that you always need a top coat. The color is pretty, and the bottles are very cute.
But...to be honest, I'm not sure if I would ever purchase another Borghese polish. Maybe if I really, really liked a color I would, but even then, it would be questionable. The color range is only so-so, about on par with the color range of the permanent line of L'oreal or Revlon polishes. I know my friend Eve (Love8Brain) over at MUA loves these polishes and I will agree that they are nice,
but
, not nice enough to justify the hefty $8 price tag. It's just too much for a polish that doesn't have a wide variety of shades such as OPI or China Glaze. I honestly think that most, if not all of their colors are easily dupes of other colors. If they are ever on sale for maybe $2 off, I would definitely get a couple but at the current price, not so much. I'm not willing to pay so much for polish that doesn't call out to me.
I should also mention though that these polishes are
free of Tolulene, DBP, and Formaldehyde (aka Big Three Free), and that these polishes are also

not

tested on animals. It also has a lot of added botanicals and natural ingredients such as aloe, sunflower, chamomile, sweet almond, grape seed, and olives. I'm not sure that the added botanicals really do much (they do sound impressive though), but I know for some people, the whole Big 3 Free and animal testing status is very important.

So speaking of doing good for the environment and for the earth, I haven't given an eco tip in a while! With the weather getting hotter and hotter, hydration is power. Now, plastic water bottles are just terrible for the environment but unfortunately, they are very handy. In fact, I'm guilty of consumerism right now because I just bought an Aquafina from the student store. But, I'm totally going to invest in a stainless steel water bottle as soon as possible. Not only will it help in keeping my water cooler and fresher, it's a great alternative to plastic bottles (even the Nalgene ones). Other than buying online them online, you can find them at REI or EMS...any outdoors store I think. I'm just getting impatient so I want one now! Temperatures here recently have been in the 100 degree Fahrenheit range.