So a couple of weeks ago, I was browsing Rite Aid for garbage bags when naturally I decided to check out the cosmetics selection. My local Rite Aid had recently remodeled their cosmetics layout, and I noticed that they expanded their line of Black Radiance cosmetics. So yeah, I'm not the target audience but that doesn't and shouldn't stop me from expanding my horizons, right? Anyway, normally their selection is only so-so but I spotted two new polishes (it helped that their stickers said New!) and at $1.99 a piece, I decided to just get them. One was a pretty burgundy shimmer and another was a vampy, dark blue shimmer.
Sadly, my color-blindness let me astray yet again. The burgundy shimmer, though named Crimson Chrome, wasn't crimson at all. It actually was VERY much a brown. Though the application and shimmer was gorgeous, it did not look good on me at all. I know some people can rock the browns but for me, it just looked like shimmery poop. Application was fantastic though: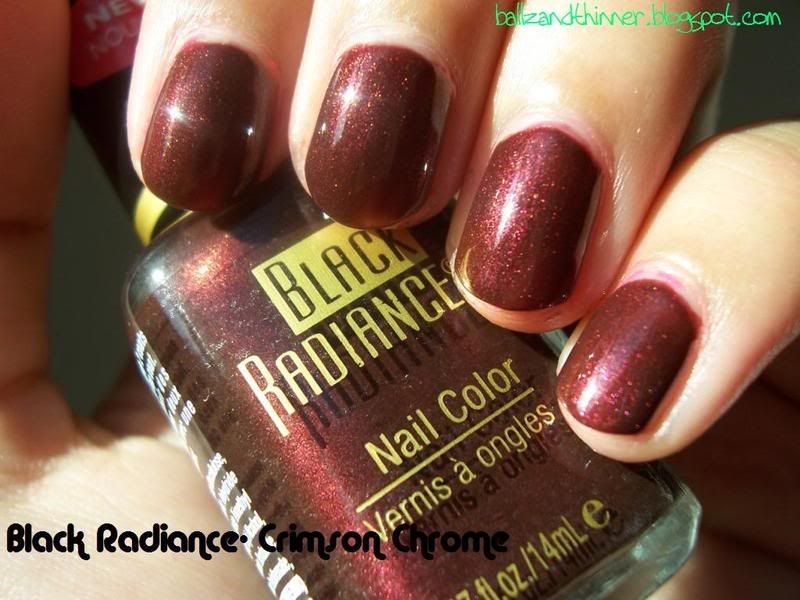 Next up is the GORGEOUS Blue Nile. I noticed how it looked like
OPI Light My Sapphire
in the bottle, but sometimes that doesn't always translate the same onto the nail. However, it's pretty similar. Here is it by itself, sorry about the first picture. I prefer to take pictures in direct or indirect sunlight but sometimes the sun can wash a color out.
Want to see how similar it is to LMS? Here's a comparison, with Blue Nile on the index and middle finger and LMS on the ring and pinky finger: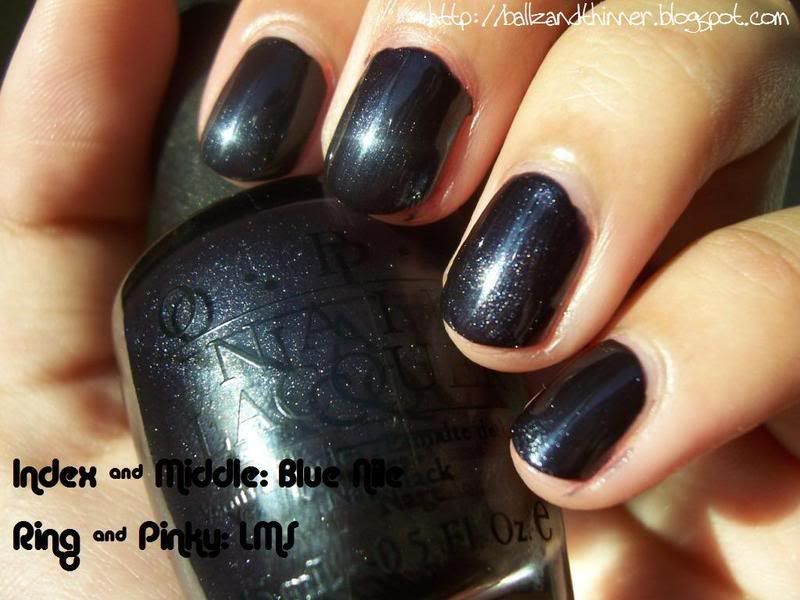 I think they are pretty much dupes, except LMS is a tad more sparkly. Here's a comparison of Blue Nile, LMS, and NYC Midnight...I messed up the order of LMS and Midnight, sorry. Blue Nile is on the index finger, Midnight is on the middle finger, and LMS is on the ring finger (all 3 coats)
Excuse the blurriness too, but Midnight has more blue shimmer than the other two. Overall, Blue Nile is an effective replacement for OPI Light My Sapphire if you can't find it or don't want to pay the price of a OPI.
I had a really good experience with Black Radiance, and I look forward to trying more colors. Hopefully my Rite Aid or CVS will have more colors, I see some potentially hot ones on their website. They retail for $1.99 and are Toluene, Formaldehyde and Phthalate-free as well. They have a list of where to buy on their
website
, but some stores may not carry it (another Rite Aid near where I live doesn't have this line) or carry a limited selection (like my local CVS).