After a long and exhausting week, I'm ready to relax.....by studying for finals next week. I've given into the fact that the first half of June has/is going to be a lose-lose situation. But look what beauties decided to drop in today: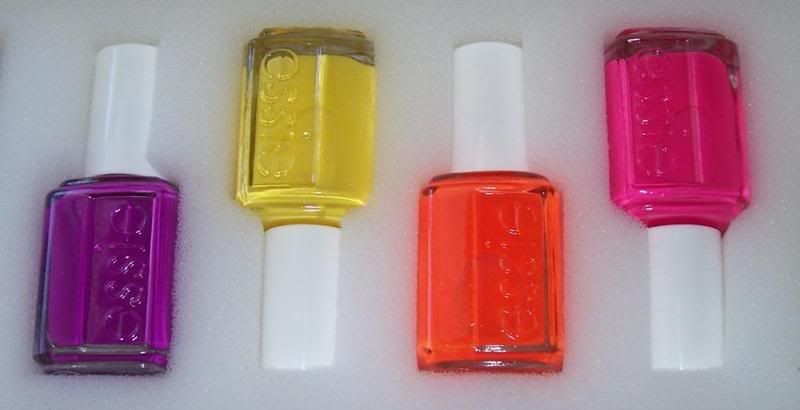 Yep, the new Essie Neon collection. They released a LE neon collection last year too, but those were much sheerer. From the pics I've seen on MUA and 15 Min. Beauty Fanatic, these are highly pigmented. I'm eager to try these, but I will have to wait...but instead of just being a tease, I present you with pics of another polish.....Pure Ice Tease. It's a perfect summery color, a bright fuchsia with a hefty dose of blurple shimmer. I'm not sure how to classify the shimmer in this but it's so nice!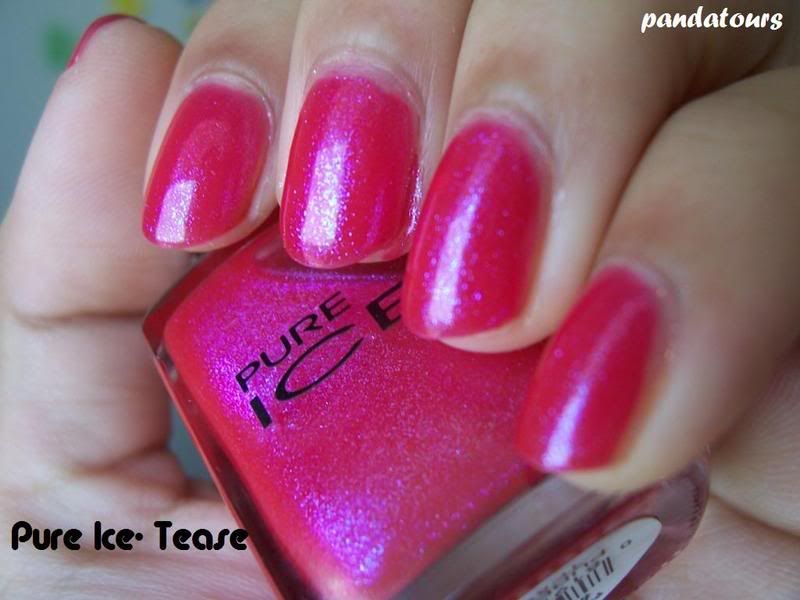 Pure Ice polishes can be found at Walmart for fairly cheap, I've forgotten the exact price. But they are good quality polishes for the money. Everyone over at the nail board has gone crazy over Pure Ice Heartbreaker, which is a great polish for layering over cremes because of the gorgeous shimmer in it. Also, occasionally these polishes will be out of stock...don't resort to the internet! Eventually they will be restocked, sometimes in a matter of days. Patience, patience.
With Essie's new neon collection as a direct competition with MAC and Chanel's neon collections, what do you guys think? It's definitely the cheapest alternative compared to the rest, but they are all different enough to justify (in my world at least), having them all. MAC's Phosphor, for instance, is a bit more frosty than Chanel's LA Sunrise or Essie's Shorty Pants. LA Sunrise is also lighter, and Shorty Pants is the only out of the three to be a straight creme.
Also, given Essie's surprising hit with their
summer collection
, and now a collection of neons, do you sense that they're branching out from their usual conservatism? Granted, the neon collection is limited edition but the pigmentation is a departure from the demure Essie polishes of the past. This could be the evolution of something great....perhaps a collection of sheer holo's? Something that incorporates their signature soft, workplace-safe colors with an infusion of holographic glitter for a bit of edge. I could easily see a nice nude holographic version of Congo Bongo, a pretty soft pink holo version of Charmeuse or My Place or Yours, or a pretty white holo with Intimate. China Glaze and OPI have all released holo collections, what do you guys think? I'm always in favor of progression while not completing leaving behind the basics. I think it's possible that Essie's color selection could become more daring without alienating their original fan base. After all, their tag line is that Essie is a color-holic. It's nice to see that becoming more of a reality now.